New Release from Picket Fence Studios October 2023
Sweet treats for the Holidays with Picket Fence Studios!
Holiday crafting is officially in full swing in my craft room! With the crispness of autumn in the air, it's the perfect time to immerse ourselves in the enchanting October 2023 release from Picket Fence Studios. This collection shines a spotlight on the holiday season, presenting an array of delightful stamps, dies, and stencils ready to infuse your creations with festive charm. Join me as we explore the creative possibilities within this collection through the making of five distinct and captivating cards.
Disclosure
Compensated affiliate links may be used on this page at no cost to you. Thank you for supporting me so that I can continue to bring you lots of fun crafting content!
Card One: A Sweet Holiday Birthday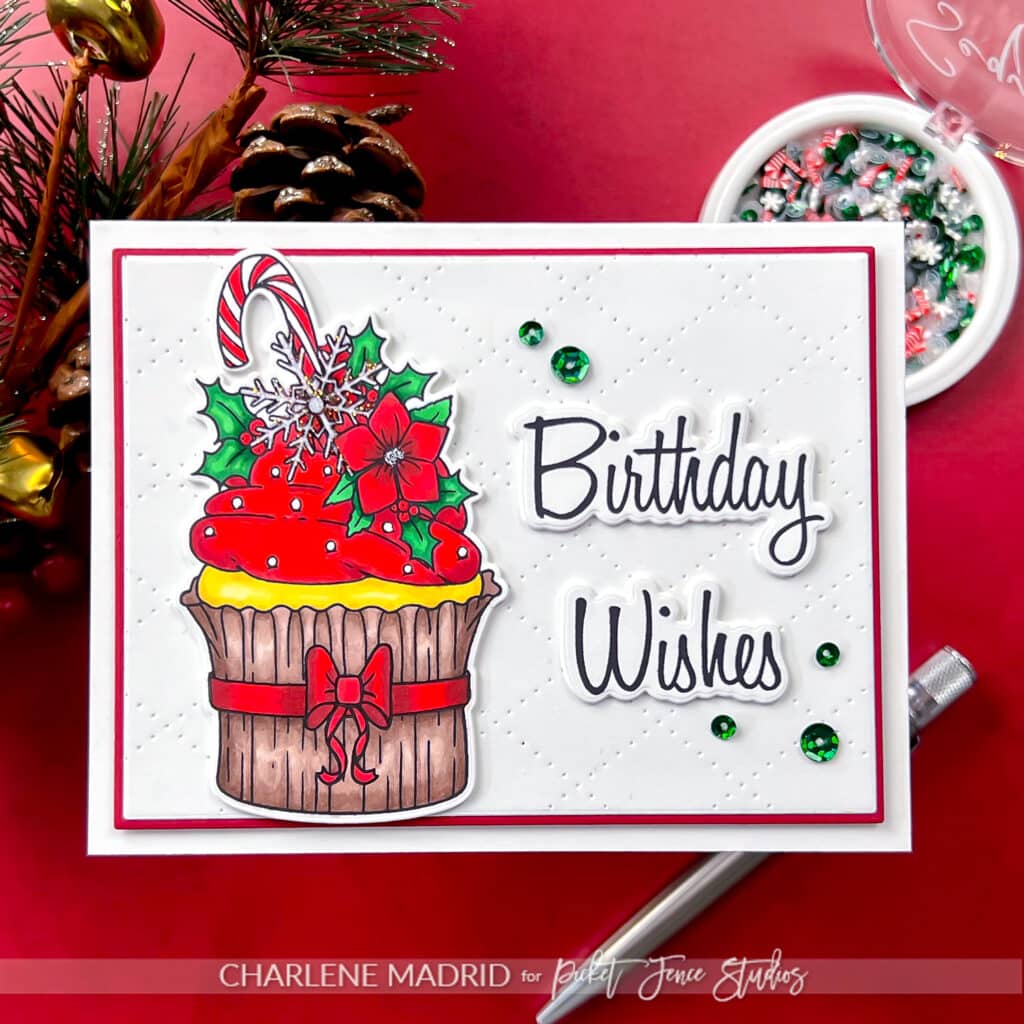 For the first card, I employed the charming Sweet Holiday stamps and dies to create a unique holiday-related birthday card. I stamped the holiday-themed cupcake, adorned with traditional Christmas images, and added detailed coloring to bring it to life. The coordinating dies were used to cut out the cupcake and a stamped birthday sentiment. To create a simple yet striking background, I incorporated the A2 Pierced Blanket Cover Plate on a white background. For a touch of holiday sparkle, green sequins from the Holiday Stockings Sequin Mix were the perfect finishing touch.
Products Used
Olo Marker Colors
Wrapper: O 7.7, O 7.3, O 7.1
Bows/Flower: R 1.5, R 1.7
Candy Canes/Berries: R 1.5
Cake: Y 2.0, Y 2.2
Frosting: R 0.6, R 0.5
Grays: CG-0
Card Two: Glistening Christmas Wishes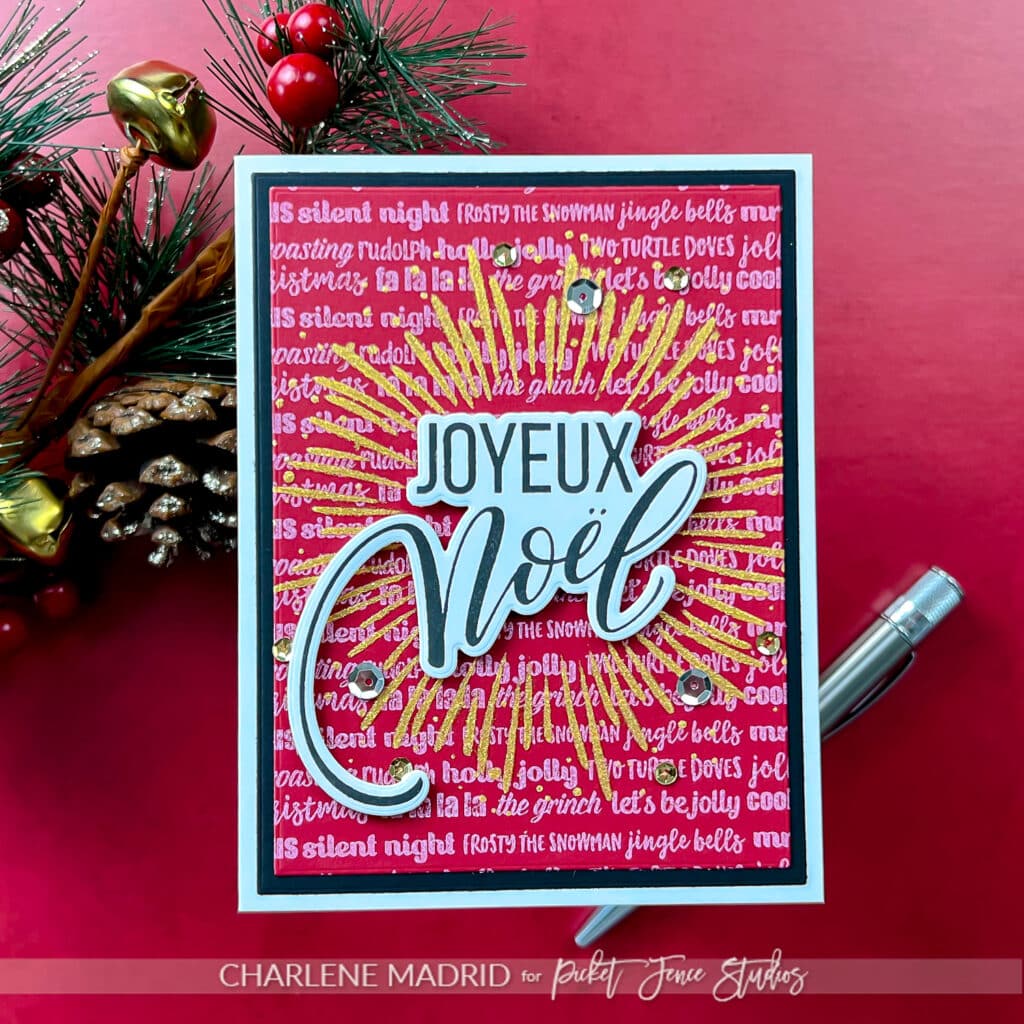 The second card features the captivating Christmas Wishes background stamp, adorned with a plethora of joyful holiday phrases. I stamped this stamp onto red cardstock using white pigment ink, creating an elegant and festive background. Adding a burst of golden sparkle, I used the Inner Glow A2 Stencil. In the center of the card, the large Joyeux Noel sentiment from the Another Joyeux Noel stamps and dies takes the spotlight. A few silver and gold sequins from the A Classic Christmas Sequin Mix add a touch of shimmer to the card.
Products Used
Card Three: Cozy Holiday Hearth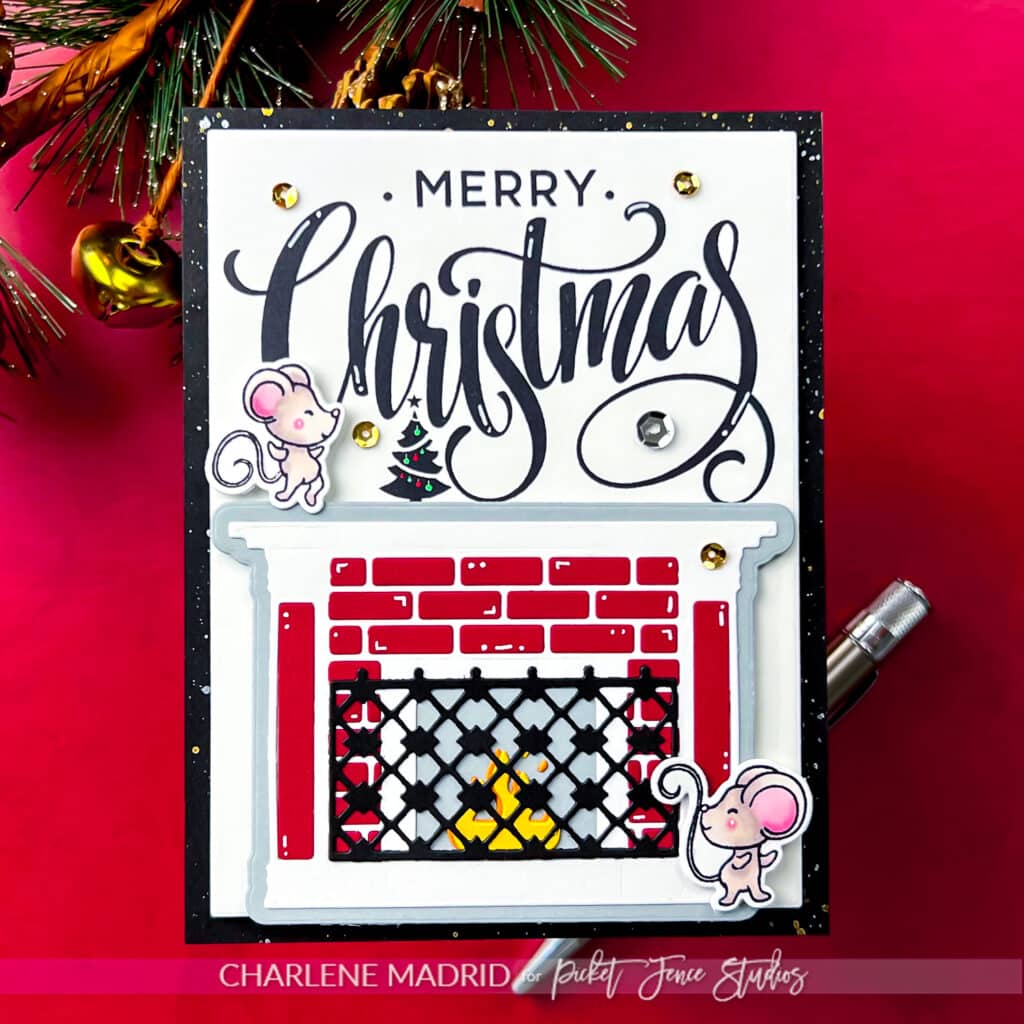 Card number three transports us to a cozy holiday scene featuring a magnificent fireplace created with the Scene Building: Fireplace Die. To add realism, a grate in front of the fireplace was added using the Scene Building Dies: Gate and Fencing Dies. The grandeur of the fireplace mantle is adorned with a heartfelt Merry Christmas sentiment from the Another Joyeux Noel Stamps. Two charming mice from the Rockin' Around the Christmas Tree Stamps and Dies add a whimsical touch. The card is further embellished with silver and gold sparkle using the A Classic Christmas Sequin Mix, Paper Splatter Watercolor Liquid Silver Locket, and Paper Splatter Watercolor Liquid Gold.
Products Used
Olo Marker Colors
Mice: W-G 3, W-G 1, R 5.3, R 5.1
Ornaments: R 1. 5, G 1.4
Cards Four and Five: Foil-Accented Holiday Magic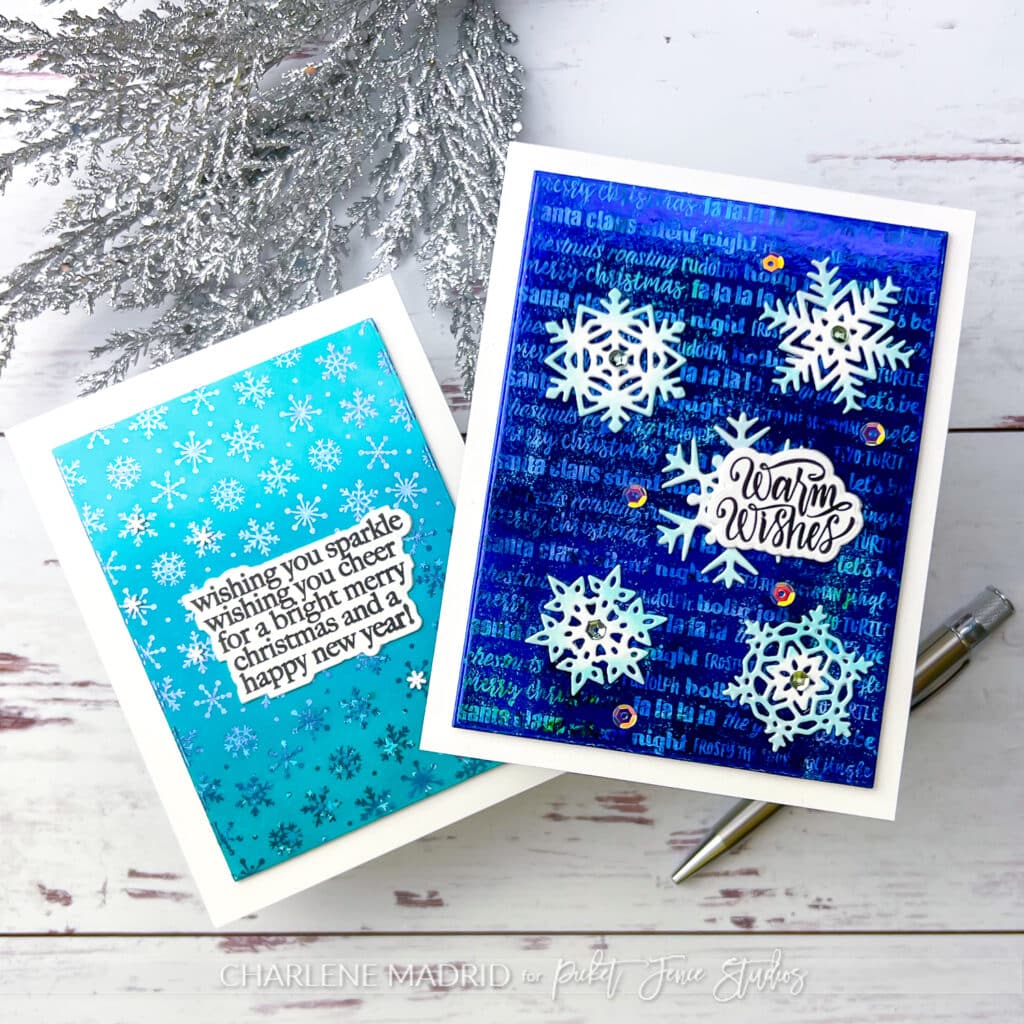 For cards four and five, I embraced the enchanting world of foiling. Using the new Fabulous Foiling Toner Card Fronts, Fabulous Toner Foils, and Fabulous Toner Foiling Card Stock, I created two unique and glamorous holiday cards.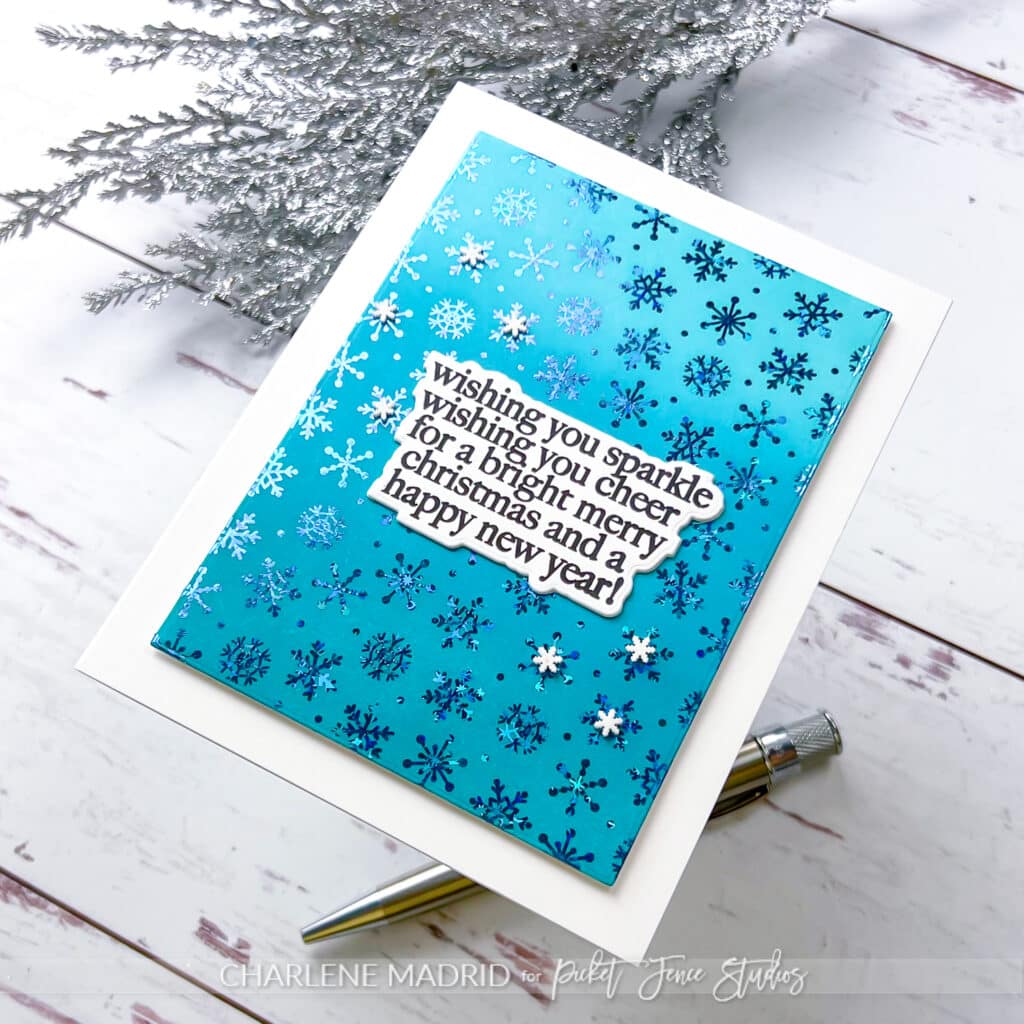 Card four showcases the Snowflake Blizzard Fabulous Foiling Toner Card Fronts, foiled with Turquoise Blue Star Burst Fabulous Toner Foils, creating a radiant effect. Ink blending in shades of turquoise blue adds depth and dimension. A sentiment from the Snowone Else Like You Stamps and Dies completes the look, along with snowflakes from the Santa's Cookies Sequin Mix Plus.
Products
Ink Colors
Catherine Pooler Cummerbund
Catherine Pooler Fiesta Blue
Catherine Pooler All That Jazz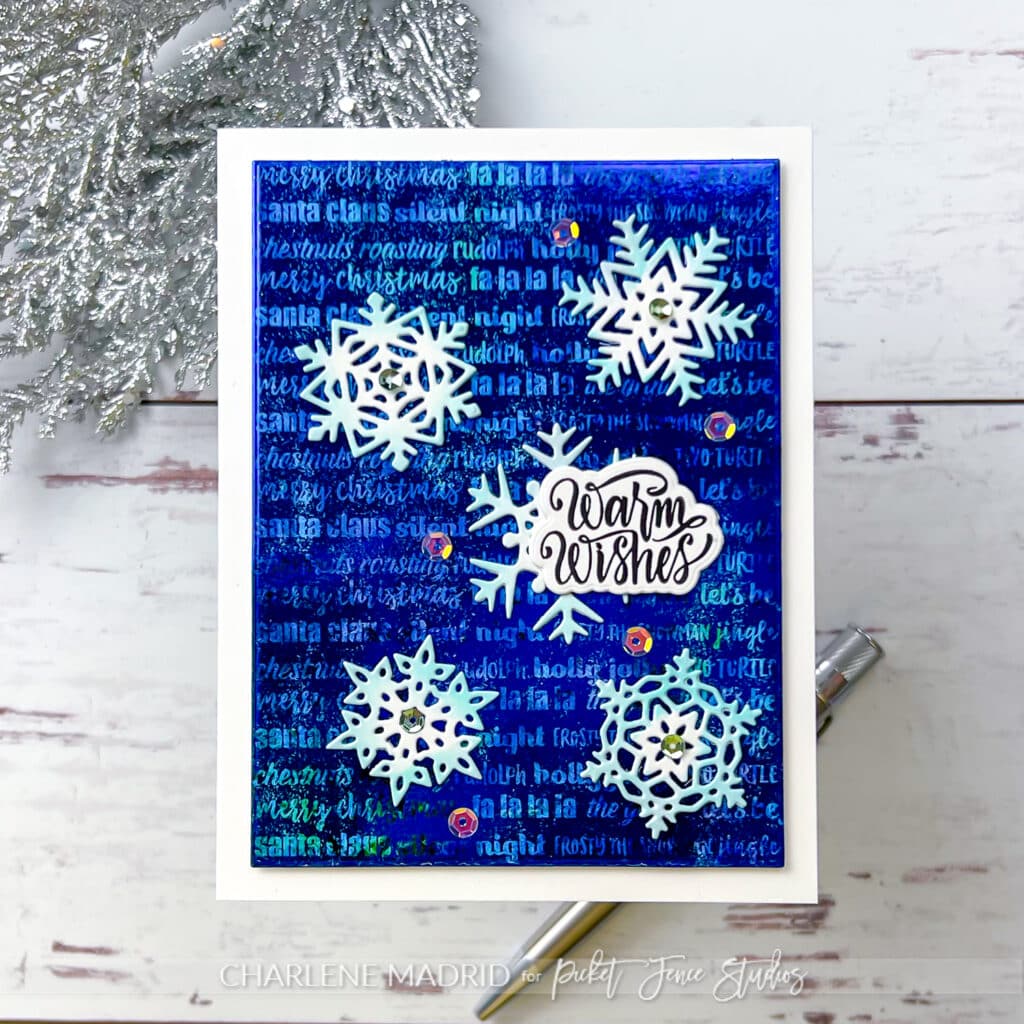 For card five, I utilized the Seasonal Greetings Fabulous Foiling Toner Card Fronts, foil-accented with Royal Blue Bird Fabulous Toner Foils. The negative from the foil was perfect to create an enchanting background with the Bright Grunge Fabulous Toner Foiling Card Stock. A blend of snowflakes from the More Winter Snowflake Dies and a sentiment from the Merry Christmas Friends Stamps and Dies brings this holiday masterpiece to life. Adding a touch of ink to the die-cut snowflakes using Rainbow Paper Pouncers and a sprinkling of sequins from the Nostalgic Times Embellishments, this card almost makes me wish for snow.
Products
Ink Colors
Catherine Pooler Cummerbund
The October 2023 release from Picket Fence Studios is a holiday crafting wonderland filled with festive stamps, dies, and stencils. The five cards I've shared are a testament to the boundless creativity this release inspires. As we approach the holiday season, I hope these cards have ignited your holiday crafting spirit and inspired you to explore the creative wonders of this remarkable release. So, dive into the magic of holiday crafting with Picket Fence Studios, and let your imagination run wild. May your holidays be filled with creativity, cheer, and endless crafty joy!