Altenew Online Workshop: Color Your Day
Where do You Find Inspiration?
Welcome, fellow crafters, to a world of vibrant colors and artistic inspiration! Today, I'm excited to share a cardmaking project that's all about creativity and the beauty of nature. Join me on a journey inspired by the Altenew Online Workshop: Color Your Day, where I learned some fantastic ways to infuse life and color into my projects.
One of the highlights was being reminded how a simple photograph can ignite our creativity. The snapshot from Altenew's July 2023 Inspiration Challenge, featuring lovely pink and purple-blue hydrangeas, inspired me to create a wreath using Altenew's new Dynamic Duo: Leaf Wreath stamp set. Let's dive into this crafty adventure together!
Disclosure
Compensated affiliate links may be used in this post at no cost to you. I received some of the products in this post at no cost. I will ONLY show you products from companies that I believe in and purchase from personally. Thank you for supporting me so that I can continue to bring you lots of fun crafting content!
Featured Products
For the full supply list, scroll down to the thumbnails at the end of this post.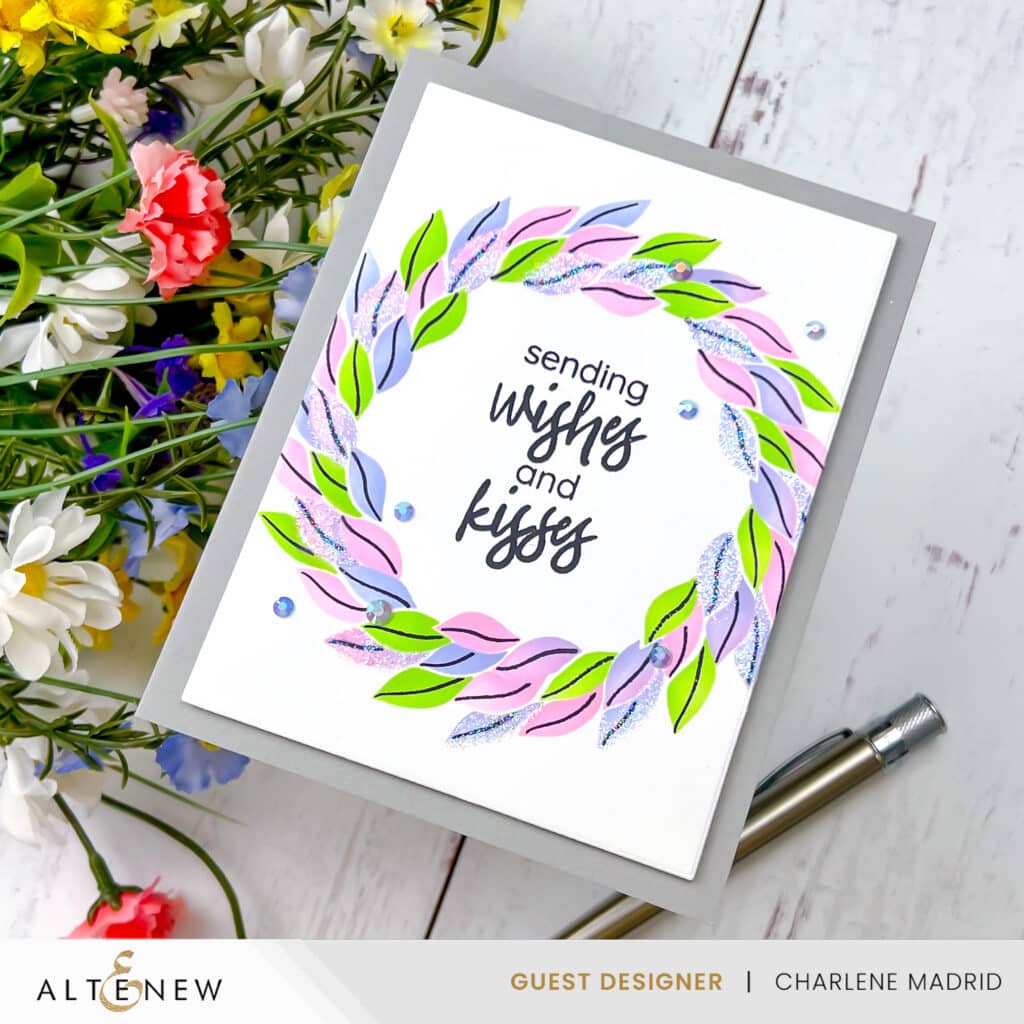 Technique
Our creative journey begins with the Dynamic Duo: Leaf Wreath stamp set from Altenew. This versatile set includes a stamp and two coordinating stencils, perfect for crafting wreaths year-round!
Altenew's July 2023 Inspiration Challenge image showcasing delightful pink and purple-blue hydrangeas, sparked my creative vision. It inspired me to translate the vibrant colors and delicate petals into a charming wreath, capturing the essence of the photograph's beauty.
Using the two coordinating stencils from the Leaf Wreath set, I set out to bring my vision to life. With a blend of pink, green, and purple inks, I created the first half of the leafy wreath. Rotating the stencils 180 degrees allowed me to complete the circle.

To give the wreath depth and realism, I used the leaf vein stamp from the set. Carefully, I stamped intricate veins onto each leaf using black ink. These fine details added a touch of natural beauty to the leaves. In the center of the wreath, I stamped a heartfelt sentiment, adding a personal touch to my creation.

To enhance the natural beauty of the leaves, I added a subtle touch of sparkle. Using one of the stencils, I applied a delicate layer of glitter glue to select leaves. This gentle shimmer mimicked the way light plays on leaves in the natural world. After the glitter glue dried, I repeated the process on the opposite side of the wretah, creating a captivating play of light and color.

To frame this lovely wreath, I matted it on a background of soft gray cardstock. This choice not only highlighted the vibrant colors but also provided a serene backdrop for the leafy wreath to shine. Finally, I added blue iridescent jewels to the card, adding elegance and a touch of magic.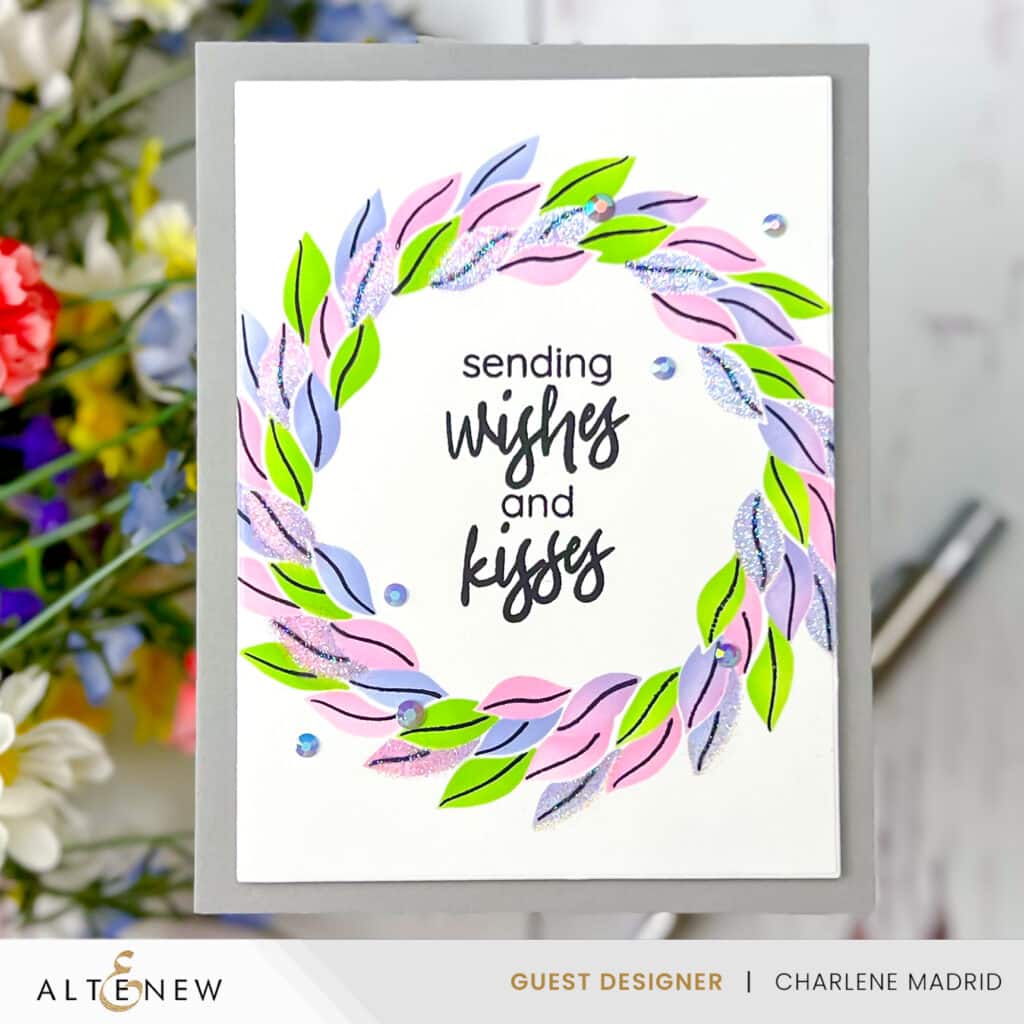 Tip
Don't be afraid to experiment with different color variations when creating your leafy wreath. While the photograph from Altenew's Inspiration Challenge may have inspired your color choices, feel free to explore your own color palette. Try using shades that resonate with you or match the recipient's preferences. Mixing and matching colors can lead to unique and stunning results, making each wreath you create a one-of-a-kind masterpiece. So, let your creativity run wild and see where your imagination takes you!
Supplies