New Release from Picket Fence Studios June 2023
Coloring fun with the Picket Fence Studios release!
The Picket Fence Studios' June 2023 release is perfect for the coloring enthusiast, with an array of stamps that bring adorable critters, botanical beauty, and glamorous figures to life. Accompanied by an assortment of versatile die sets, this release offers endless opportunities.
I'm excited to see the incredible creations that this release will inspire in all of you. So grab your brushes, markers, and scissors, and let your imagination run wild! To shop the new release in its entirety, head over to Picket Fence Studios. Happy crafting, my dear friends!
Disclosure
Compensated affiliate links may be used on this page at no cost to you. Thank you for supporting me so that I can continue to bring you lots of fun crafting content!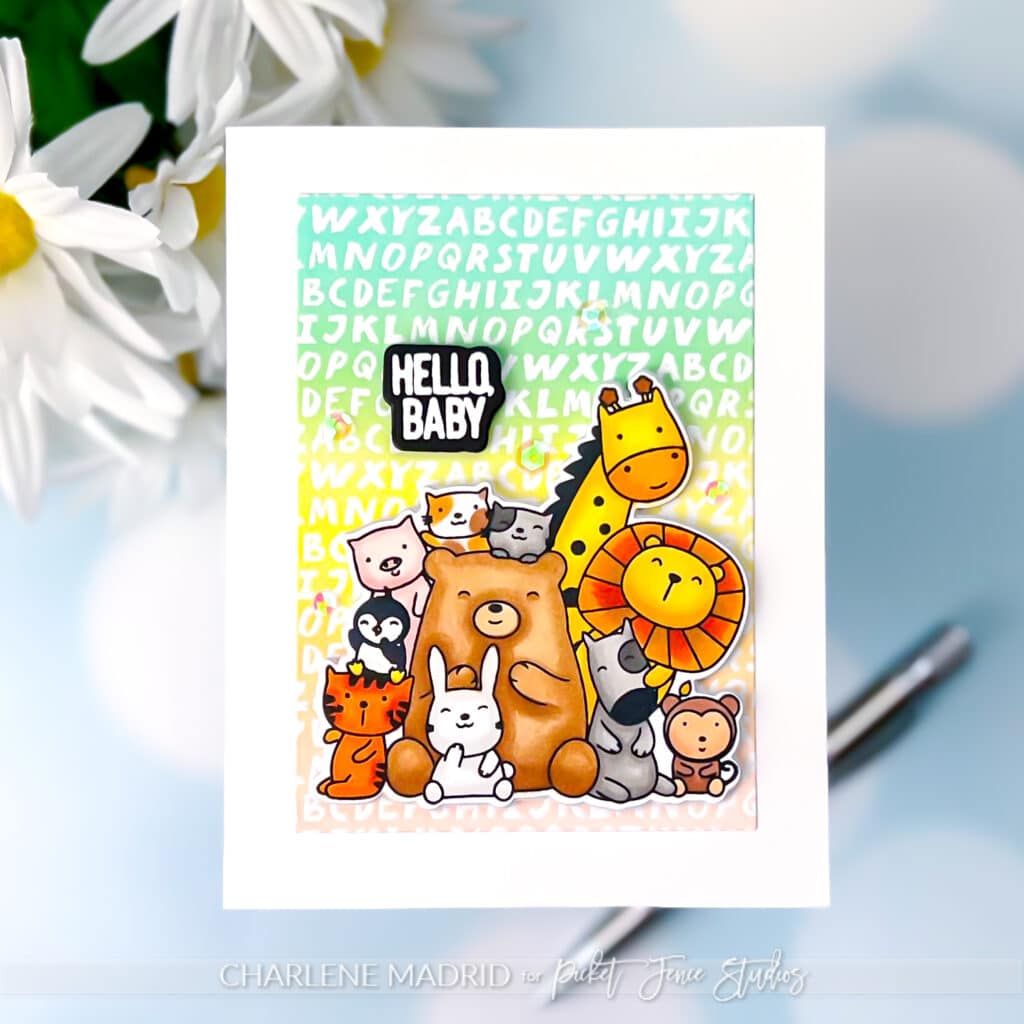 The critters in the Animal Crackers Kind Messages Stamps are so adorable! I used copic makers to bring their adorable personalities to life. For the background, I employed the emboss resist technique, heat embossing an alphabet background stamp in white and then blending vibrant inks over it to create a pretty rainbow. The warmth and sweetness of this charming card is perfect for welcoming a new baby.
Products Used
Copic Colors
Lion: Y35, Y38, E35, E08
Bear: E31, E35, E37
Giraffe: Y15, Y17, E37, Y35, Y38
Bunny: W-0, W-1
Pig: R000, R20
Tabby Cat: YR15, YR16, E08
Penguin: W-0, Y15, YR04
Grey Cat: W-3, W-5, W-7
Calico Cat: W-0, E25, YR23
Grey Dog: W-3, W-5, W-7
Monkey: E21, E25, E29
Ink Colors
Concord & 9th Nectar
Concord & 9th Buttercup
Concord & 9th Aqua Sky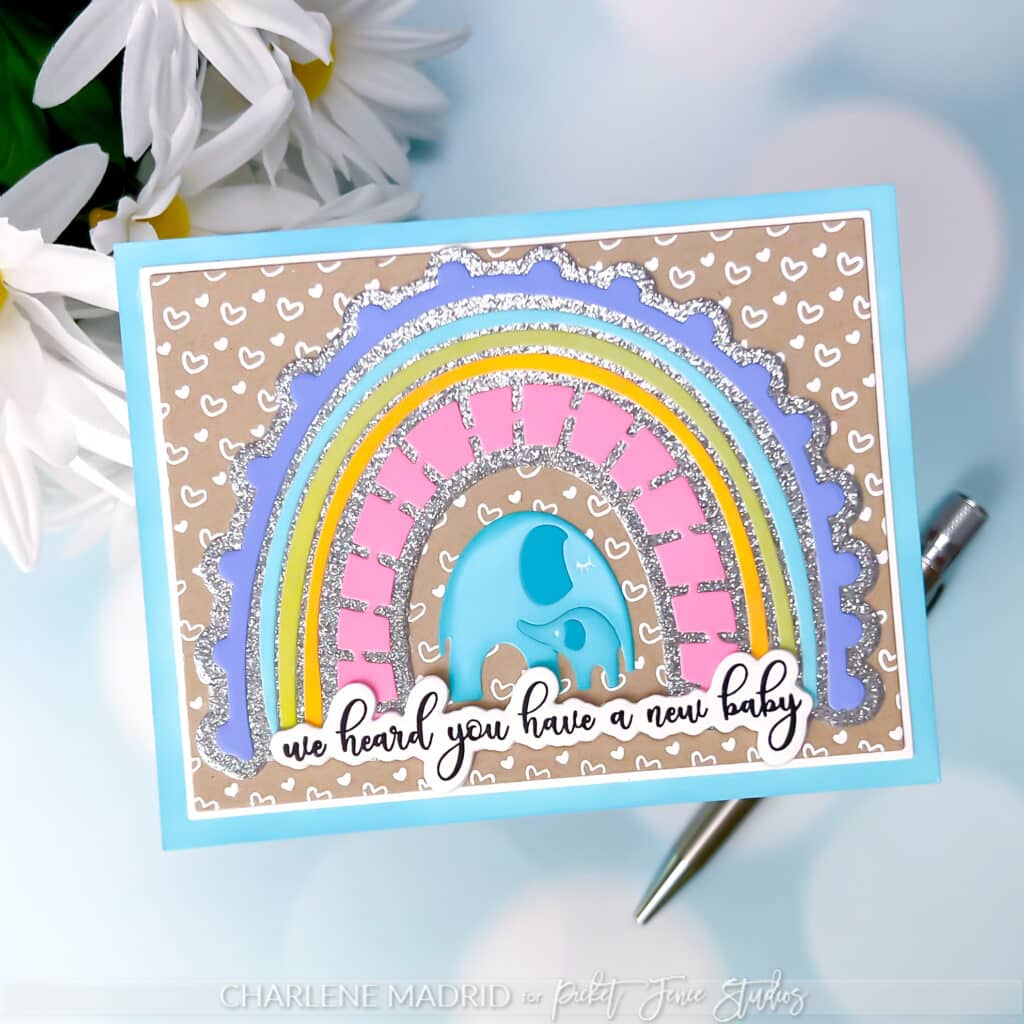 With the Another Rainbow Die for All Seasons dies, I crafted a heartwarming scene featuring a mom and baby elephant embracing beneath a beautiful rainbow. It was so easy to color each part of the rainbow and the elephants using my Paper Pouncers. To enhance the background, I heat embossed the Flow of Hearts Stamp on kraft paper. So cute!
Products Used
Ink Colors
Rainbow

Distress Oxide Kitsch Flamingo
Distress Oxide Dried Marigold
Distress Oxide Shabby Shutters
Distress Oxide Tumbled Glass
Distress Oxide Shaded Lilac

Elephants

Distress Oxide Tumbled Glass
Distress Oxide Broken China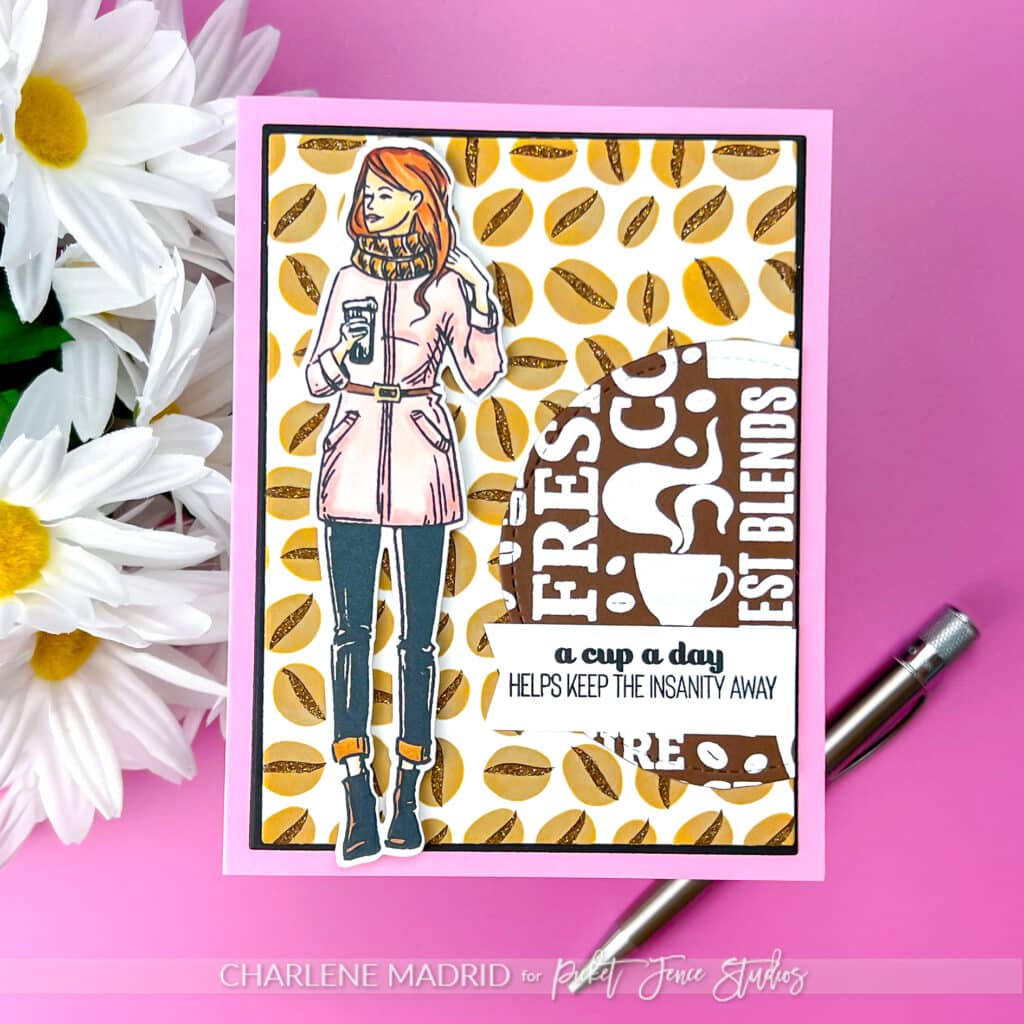 Do you love coffee? Or maybe you have a coffee loving friend like me? The BFF Ruby Girl Stamp is all about calm, crisp fall mornings with a cup of coffee in your hand. To keep all things coffee, I incorporated the The Best Bean in Town 6×6 Layering Stencils, Our Finest Selection Background Stamp, and the Espresso Yourself Stamps! The result is a delightful card that celebrates the simple joys of life and treasured friendships.
Products Used
Copic Colors
Coat: R00, R20
Belt: E25, Y28
Scarf: E00, E35
Skin: E50, E21, E31
Lips: R32
Pants: E00, E35
Shoes: E25
Hair: E33, E15, E18
Coffee: W-0
Ink Colors
Brushed Corduroy Distress Oxide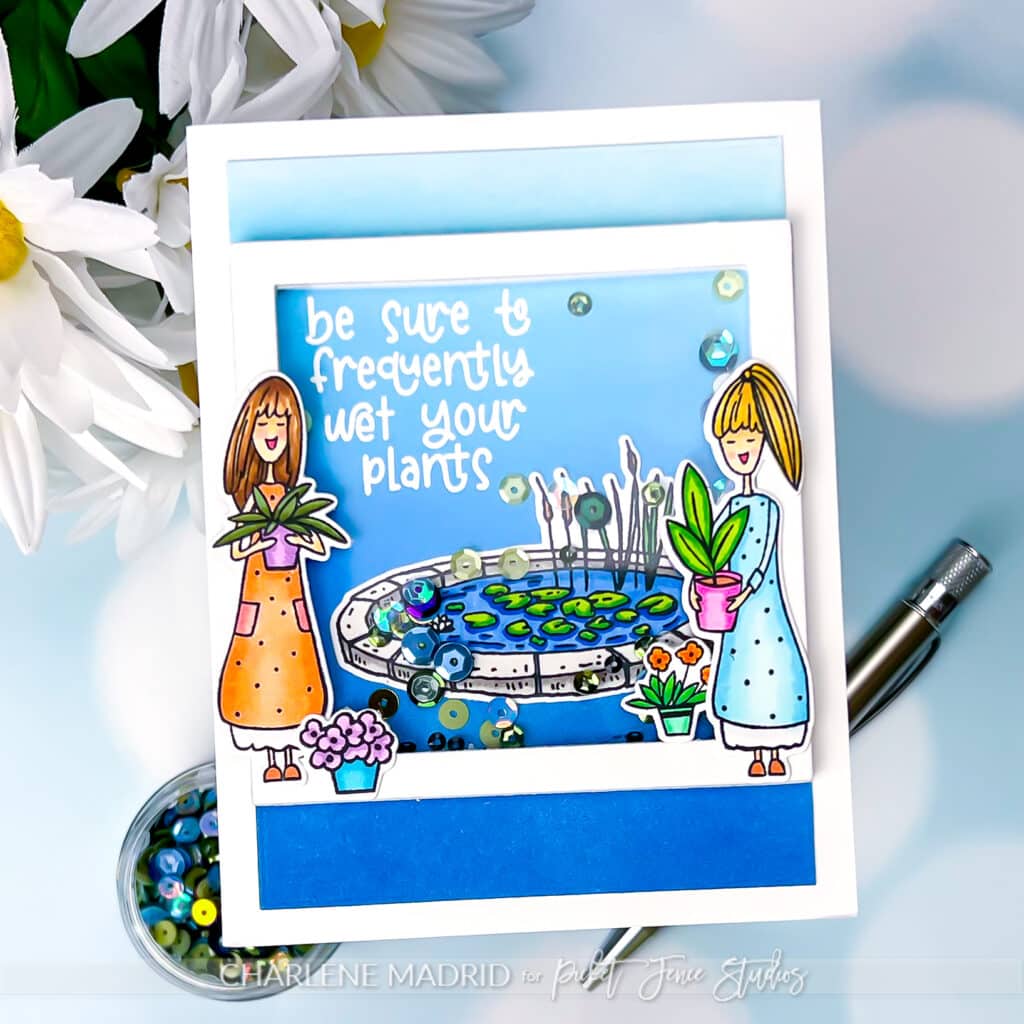 The new release features several different sizes of square shaker dies! These dies make it so easy to create shaker cards. I paired The Best Dirt Stamps and Dies with the 3″ Connected Squares Shaker Creator Die to create a fun shaker card. I love all of the cute plants the stamp set includes. And did you see the silly sentiment I chose?!
Products Used
Ink Colors
Simon Says Stamp Pawsitively Saturated Ink Marine
Simon Says Stamp Pawsitively Saturated Ink Cadette
Simon Says Stamp Pawsitively Saturated Ink Royal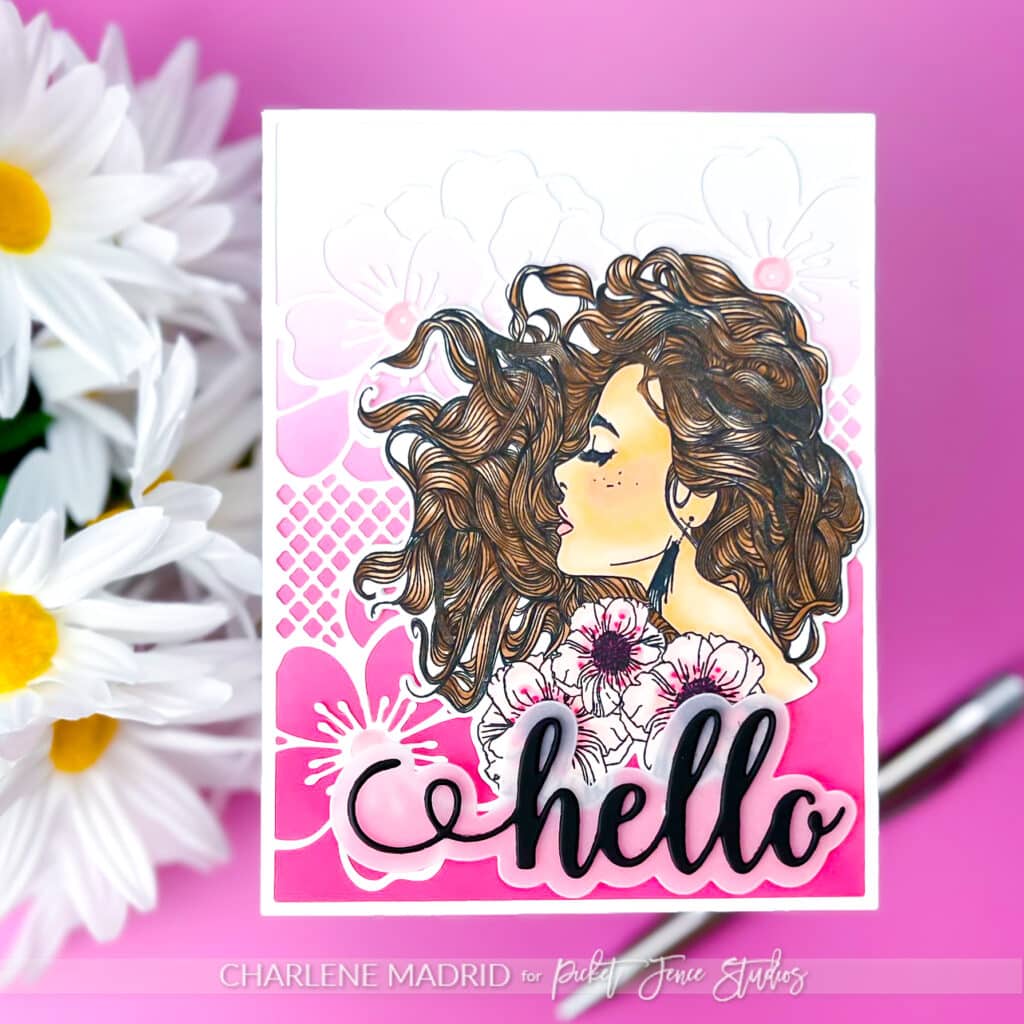 The Jen Girl Stamp embraces the spirit of living life to the fullest. The stamp features a woman with her hair gracefully blowing in the wind, radiating joy and confidence. I combined the stamp with the A2 Cherry Blossom Cover Plate Die, enhancing the overall elegance and sophistication of the card. This design serves as a reminder to seize each day and relish in the beauty that surrounds us.
Products Used
Copic Colors
Hair: E53, E57, E59
Skin: E50, E51, E53
Cheeks: R20, R00
Lips: R20
Flowers: R00, R11, RV23, RV29
Ink Colors
Simon Says Stamp Pawsitively Saturated Ink Guava
Simon Says Stamp Pawsitively Saturated Ink Watermelon