How to Use Stamp Kissing with a Twist!
Using metallic ink for stamp kissing!
In the realm of paper crafting, the opportunity for creative exploration knows no bounds. The art of stamping, whether you're a novice or an experienced enthusiast, opens up countless avenues for innovative techniques. In my recent project, I delved into the enchanting world of metallic ink and the "stamp kissing" technique, resulting in a beautiful card that combines elegance and craft.
For this creative journey, I used several items from the Holiday Wishes Release by Honey Bee Stamps, including the Winter Watercolor Stamps and Dies, Pine & Berry Centerpiece Stamps and Dies, Holiday Wishes Paper Pack, Holiday Wishes Gem Stickers, and the enchanting Bee Creative Metallic Silver Pigment Ink.
Disclosure
Compensated affiliate links may be used in this post at no cost to you. I received some of the products in this post at no cost. I will ONLY show you products from companies that I believe in and purchase from personally. Thank you for supporting me so that I can continue to bring you lots of fun crafting content!
Featured Products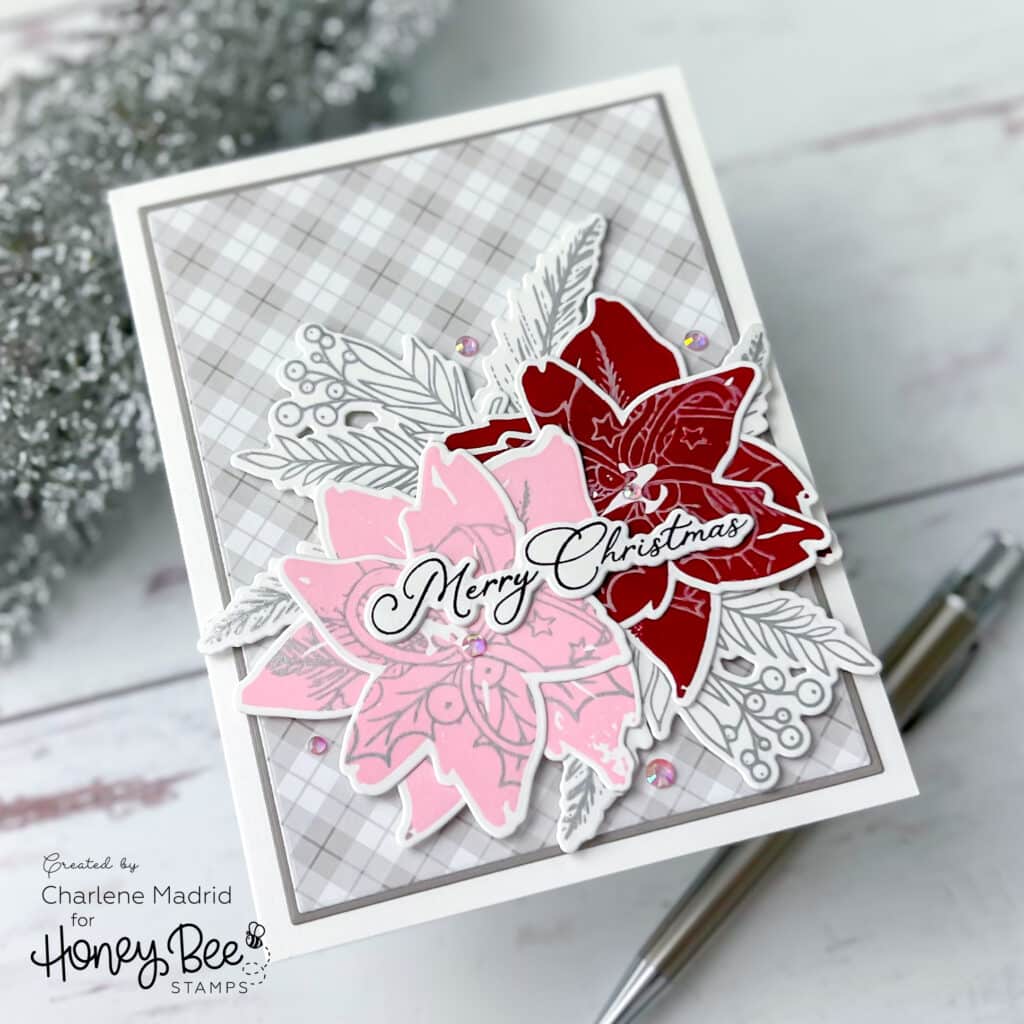 Crafting with a Kiss: The Stamp Kissing Technique
The focal point of my project was the mesmerizing "stamp kissing" technique. I began by stamping two large silhouette florals from the Winter Watercolor Stamps in a delicate shade of pink, using my MISTI. This elegant base was just the canvas I needed to embark on my creative journey.
The essence of the "stamp kissing" technique lies in the layering of stamped images, creating depth and visual intrigue. I placed a piece of clear acetate over my stamped card panel. Then, I selected a finely detailed stamp from the Pine & Berry Centerpiece Stamps, adorned with bells, holly, a bow, and pine branches. I placed the detailed stamp on the acetate over one of the large silhouette florals and stamped it with my Metallic Silver Ink. Then, I gently closed the MISTI door, encouraging the metallic ink to "kiss" the large floral stamp.
Removing the acetate sheet, I gently closed the MISTI's lid once more, transferring the metallic ink design onto the pink floral image. I repeated the process to build up the metallic ink, and the results were simply stunning. In this manner, I adorned both pink florals, creating an alluring and multi-dimensional visual appeal.
Merging Color Dimensions
Taking another card panel, I reproduced the "stamp kissing" technique, but this time I stamped my large silhouette florals with a rich, dark cranberry ink. Afterward, I die-cut all four floral images with their coordinating dies.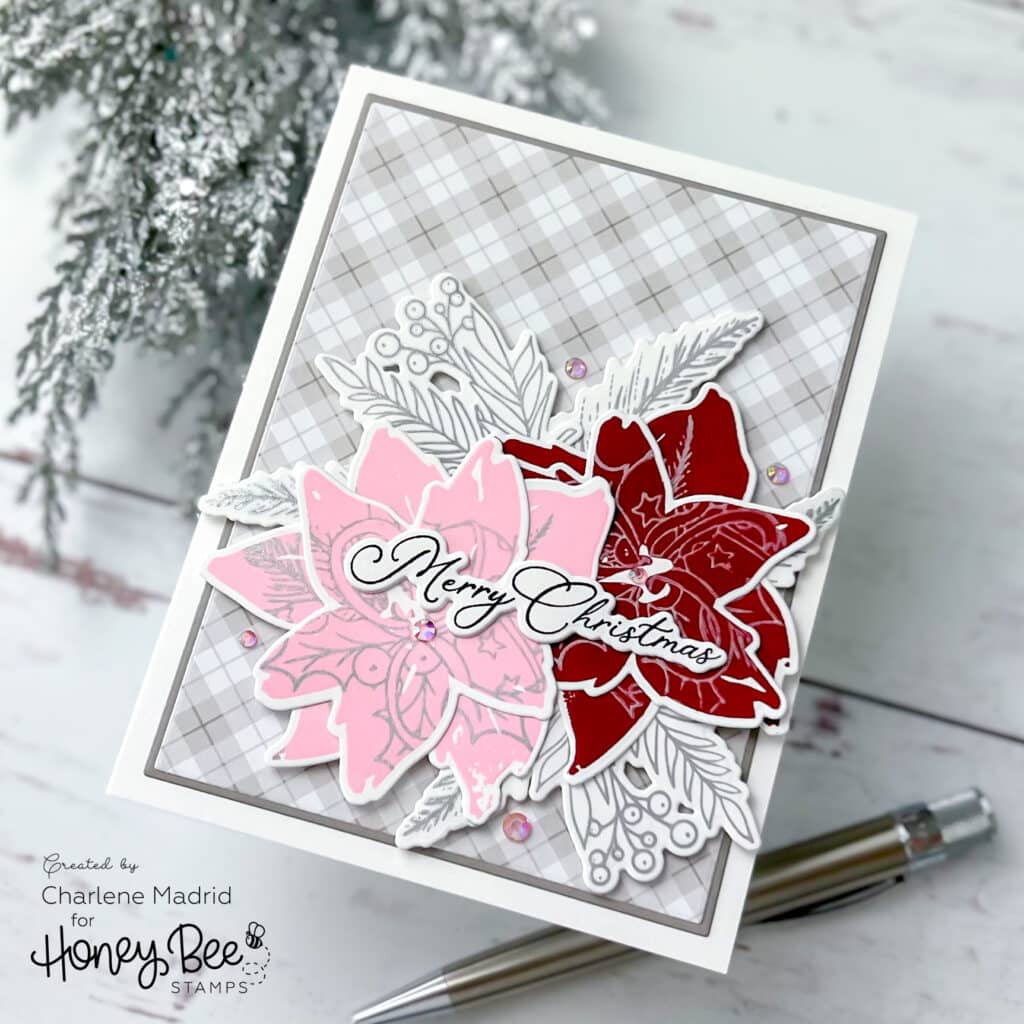 Foliage Flourish: Pine & Berry Magic
In keeping with the elegant theme, I turned again to the Pine & Berry Centerpiece Stamps and Dies. These finely detailed stamps in metallic silver ink provided an ethereal touch. I stamped and then die-cut various foliage images. I also stamped a graceful script Merry Christmas sentiment from the same set in timeless black and die-cut it for a finishing touch.
To bring everything together, I layered and glued the stamped and die-cut floral images, merging them with the detailed foliage images. I added the sentiment, right to the top center.
Assembling Elegance: Crafting Beauty in Layers
As for the backdrop, I opted for a piece of gorgeous gray plaid paper from the Holiday Wishes Paper Pack. I layered it onto a slightly larger piece of gray cardstock, creating a thin gray border that elegantly framed the entire piece. This combined piece was then glued to a white A2-sized card base, leaving a narrow white border to enhance the overall composition.
As the final touch, I took the carefully layered floral piece and elevated it with foam tape on top of the card base. To add a touch of iridescent magic, I affixed some pink gems from the Holiday Wishes Gem Stickers, bringing a sense of enchantment to the card.
This project exemplifies the wonders of metallic ink and the captivating "stamp kissing" technique, demonstrating how these elements can combine to create a masterpiece of elegance and craft. Have you tried "stamp kissing" before? Let me know down in the comments. There's always something new to explore, try, and discover. Happy crafting!
Supplies