New Release from Picket Fence Studios May 2023
Shaker card fun using the new stamps and dies from Picket Fence Studios!
The May 2023 release from Picket Fence Studios is bursting with delightful designs that bring joy to any crafting project. I had the pleasure of creating five unique cards using these fabulous new products, and I can't wait to share them with you.
From tropical delights to adorable critters and elegant florals, this collection offers a world of possibilities for creating heartfelt and captivating cards. I hope my five card designs inspire you to explore this collection and create your own magnificent creations.
To shop the new release in its entirety, head over to Picket Fence Studios. Happy crafting!
Disclosure
Compensated affiliate links may be used on this page at no cost to you. Thank you for supporting me so that I can continue to bring you lots of fun crafting content!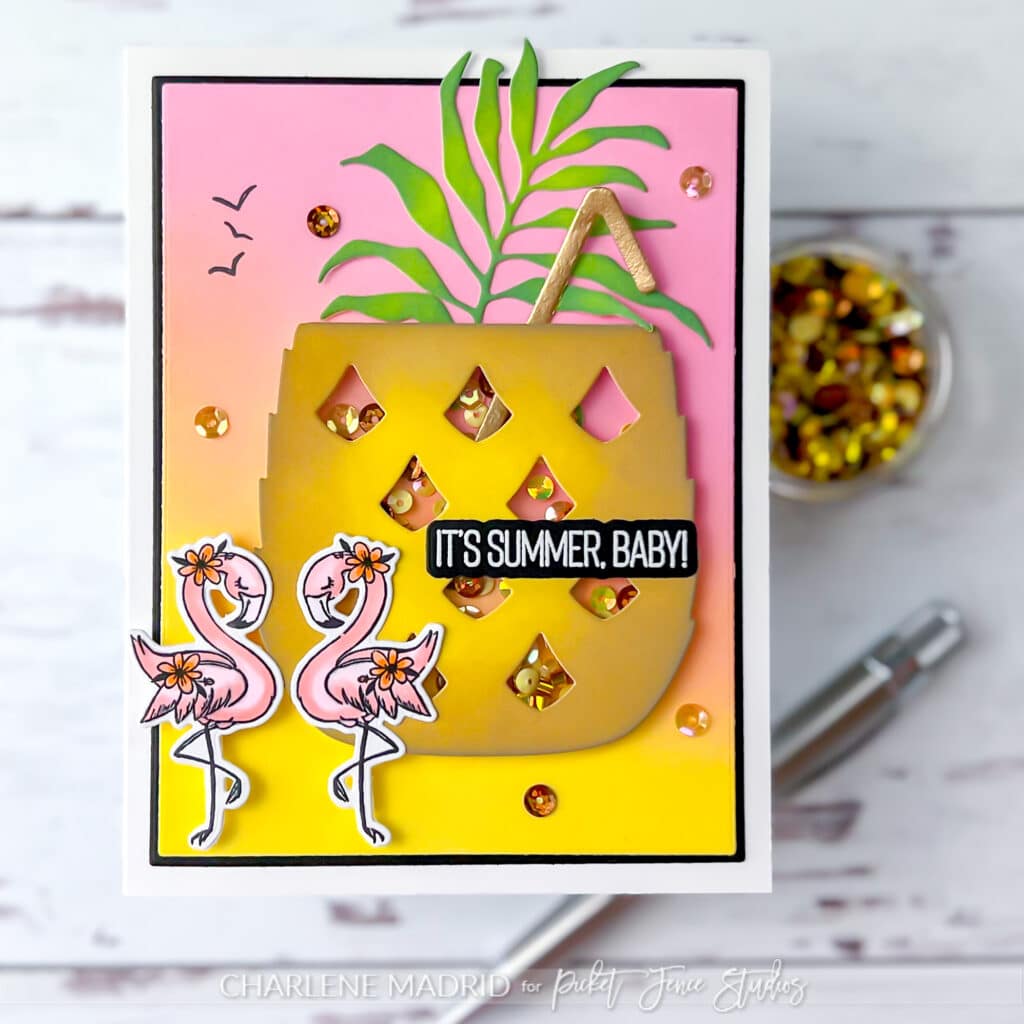 The Tropical Pineapple Shaker Die stole my heart from the moment I saw it. I used this die to create a refreshing shaker card that screams summer. To enhance the tropical vibe, I added stamped flamingos, bringing a playful and vibrant touch to the card.
Products Used
Copic Colors
Flamingos: RV000, R20, RV42
Flowers: YR02, YR04
Ink Colors
Background

Distress Oxide Kitsch Flamingo
Distress Oxide Squeezed Lemonade

Pineapple

Distress Oxide Squeezed Lemonade
Distress Oxide Vintage Photo

Palm Leaf

Distress Oxide Twisted Citron
Distress Oxide Rustic Wilderness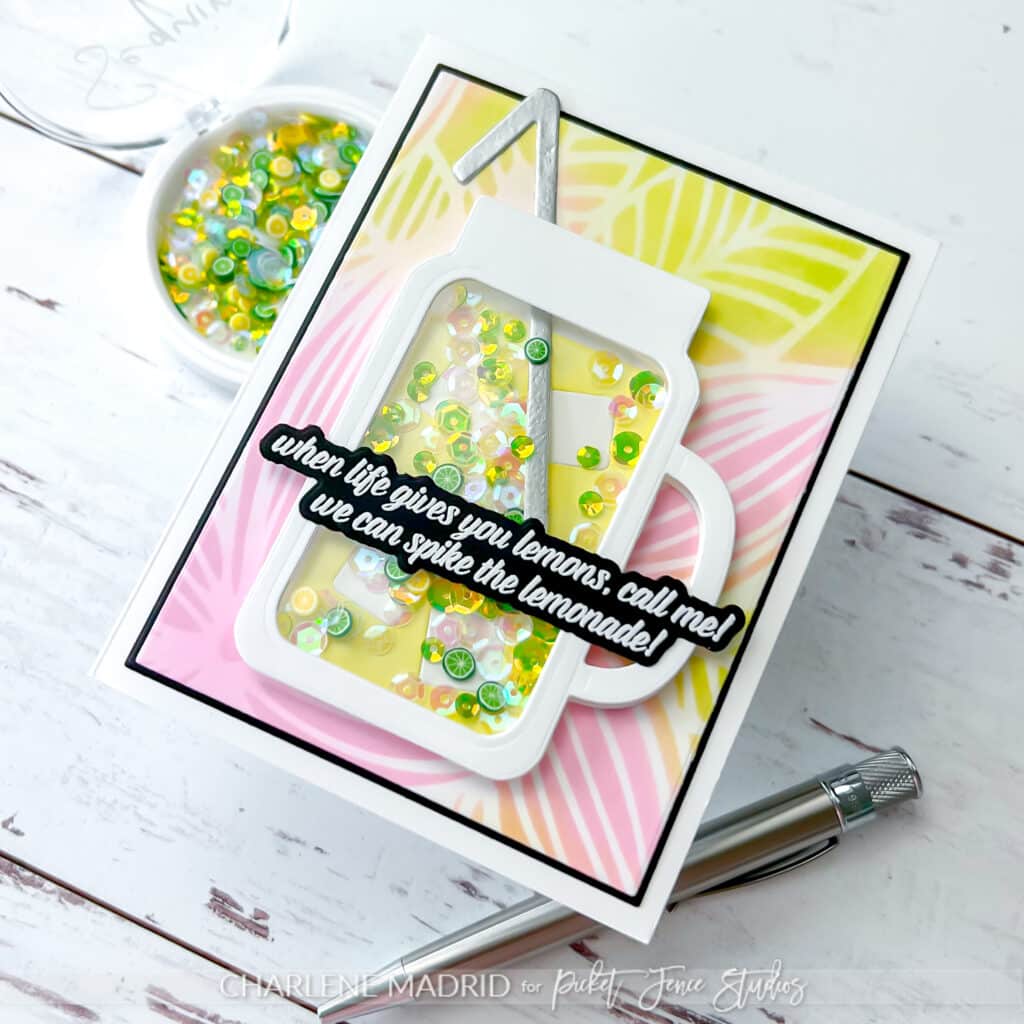 For this card, I embraced the cheerful essence of summer with the Lemonade Shaker Die. Using the Zesty Sequin Mix Plus featuring lemons and limes, I created an interactive shaker element that adds a fun twist. The combination of the lemonade die and the citrus-themed sequins creates a refreshing and vibrant card.
Products Used
Ink Colors
Simon Says Stamp Pawsitively Saturated Ink Bubblegum
Simon Says Stamp Pawsitively Saturated Ink Limelicious
Simon Says Stamp Pawsitively Saturated Ink Lemonade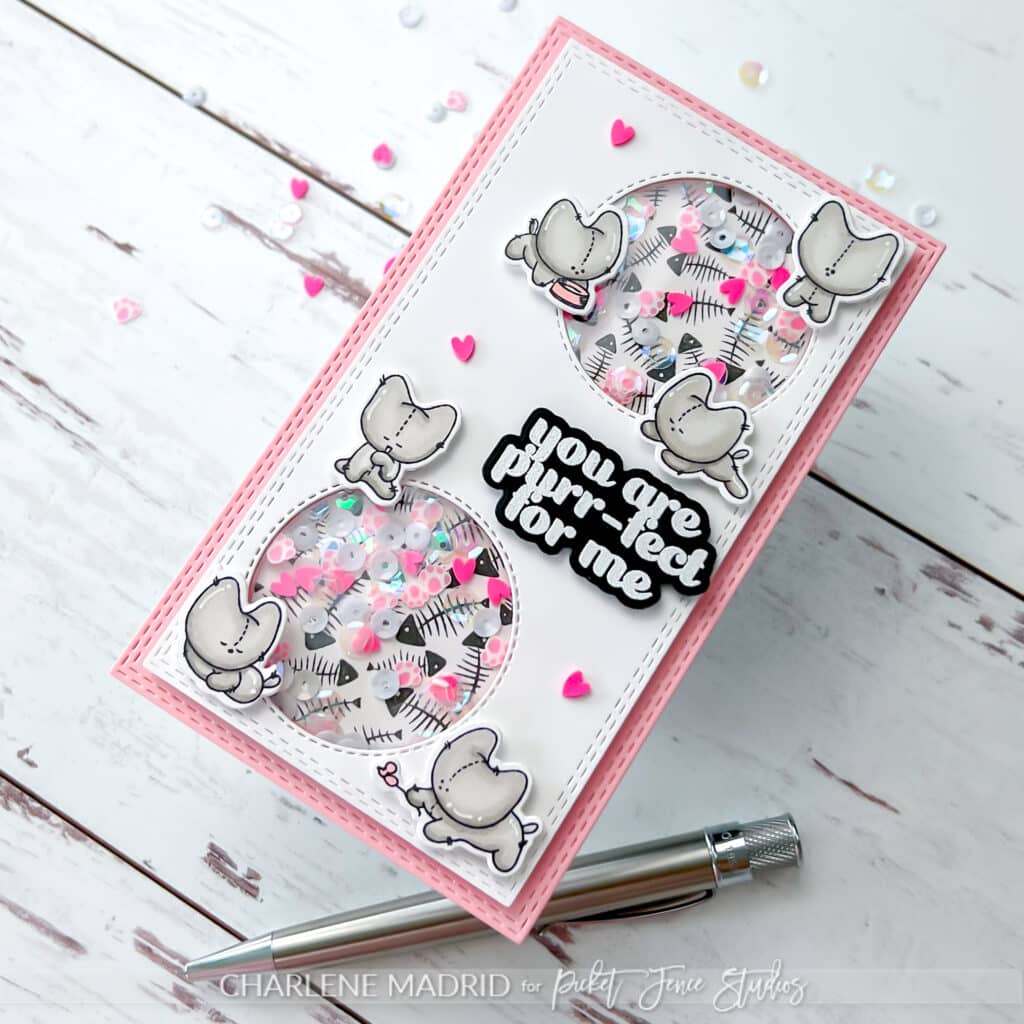 Who can resist stuffed animal kittens? I certainly couldn't! I used the Purr-fect for Me Stamps and Dies to create an endearing shaker card featuring cute paw print and heart sequins and the Are You Kitten? Seamless Stamp. The combination of the stamped kittens and the fish filled background makes for the purr-fect card!
Products Used
Copic Colors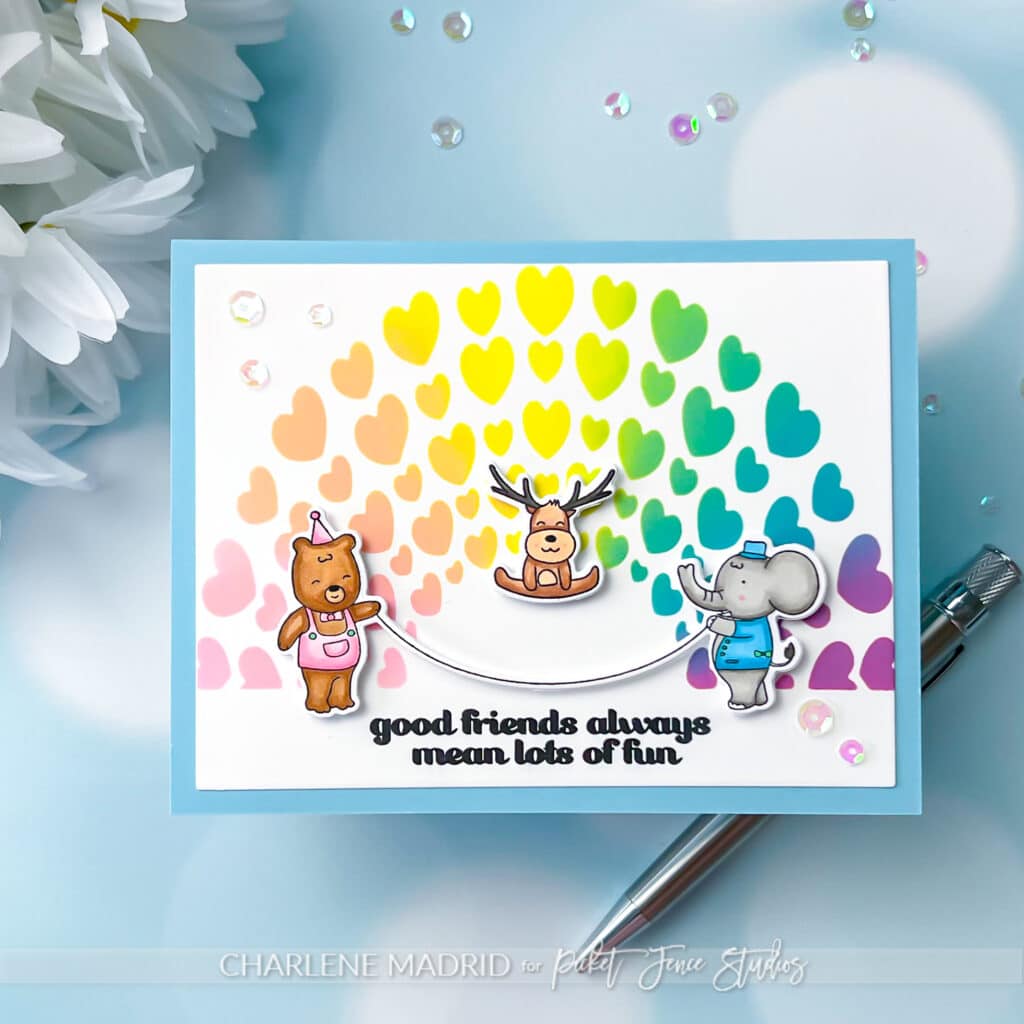 The Skipping Rope with Friends Stamps and Rainbow of Hearts A2 Stencil pair perfectly together. A card with adorable critters jumping rope in front of a rainbow spreads love and friendship. Using the stencil, I created a colorful and whimsical rainbow backdrop, and then added the delightful critters to complete the scene!
Products Used
Copic Colors
Elephant: W-1, W-3, W-5, W-7, B02, BG05, G02
Bear: E53, E57, RV10, RV13, G02
Deer: E21, E25
Cheeks: R20
Ink Colors
Distress Oxide Squeezed Lemonade
Distress Oxide Kitsch Flamingo
Distress Oxide Peacock Feathers
Distress Oxide Seedless Preserves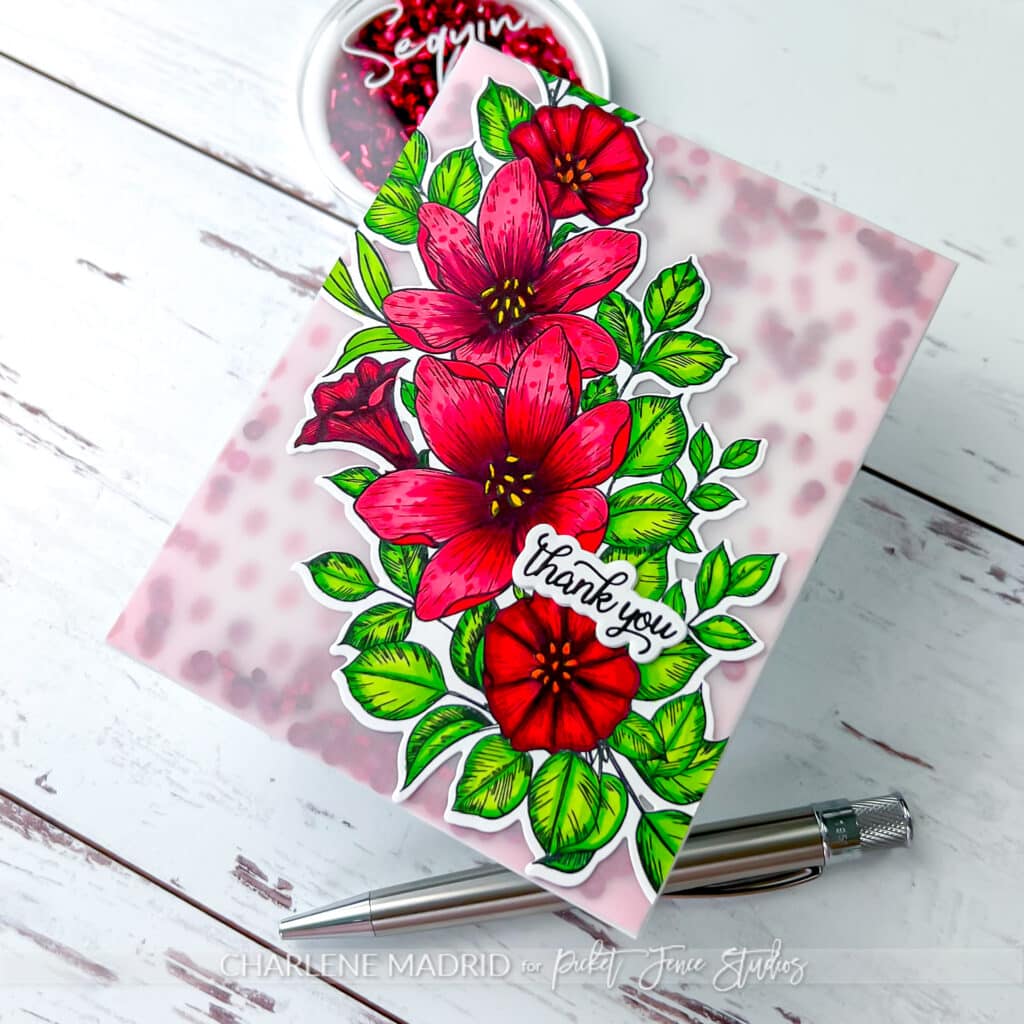 For my final card, I turned to the exquisite Million Little Things Stamps. I decided to create a shaker card with a touch of elegance by incorporating vellum. I stamped the stunning floral image and placed it on the front of the shaker window, allowing the sequins inside to add a subtle sparkle. The result is a card that exudes grace and beauty.
Products Used
Copic Colors
Large Flowers: RV14, RV29, RV69
Small Flowers: R46, RV69
Centers: Y08, RV14
Leaves: YG03, G07
Ink Colors
Simon Says Stamp Pawsitively Saturated Ink Cherry