New Holiday Wishes Release from Honey Bee Stamps!
Using acetate and vellum with embossing folders!
Hey there, fellow crafters! Today, I'm diving into the enchanting world of the Holiday Wishes Release from Honey Bee Stamps. With the chilly breeze and snowflakes swirling outside, it's the perfect time to craft cozy winter-themed cards. In this project, I'm sharing not one but two card designs, each highlighting the beauty of embossing and the sparkling spirit of the season.
Disclosure
Compensated affiliate links may be used in this post at no cost to you. I received some of the products in this post at no cost. I will ONLY show you products from companies that I believe in and purchase from personally. Thank you for supporting me so that I can continue to bring you lots of fun crafting content!
Featured Products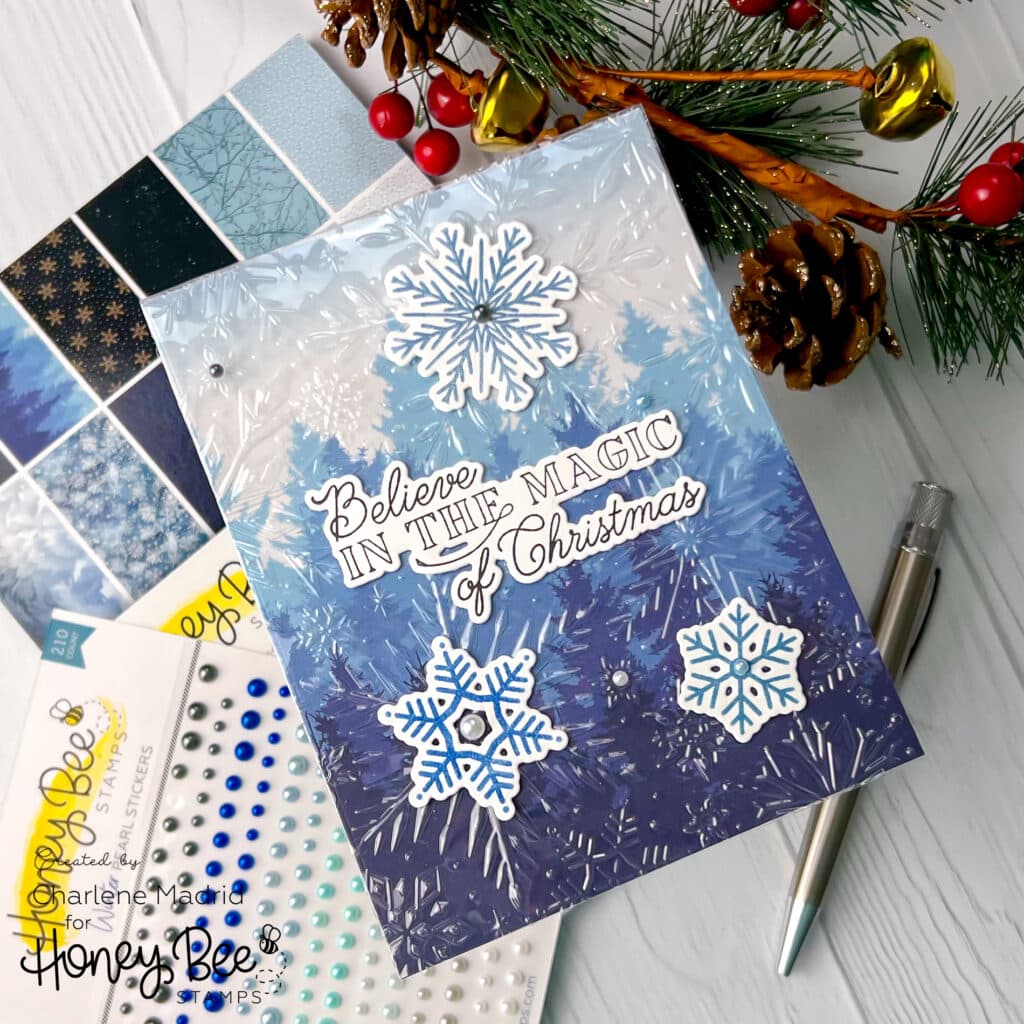 Our frosty adventure begins with a sheet of clear acetate that's about to undergo a magical transformation. Using the Snowflakes 3D Embossing Folder, I embossed the acetate, turning it into a winter wonderland of intricate snowflakes. The result is a transparent piece of art that captures the essence of falling snow.
Behind the embossed acetate, I nestled a piece of pattern paper from the Winter Wonder Paper Pack. This adds a touch of warmth and texture, making the snowflakes pop. I carefully glued snowflakes I created using the Let It Snow stamps and dies on top of the acetate, creating a beautiful effect. To complete the picture, a sentiment from the same set takes center stage. The perfect winter message, right? And, of course, we can't forget a few pearly accents from the Winter Pearl Stickers, adding a hint of elegant sparkle.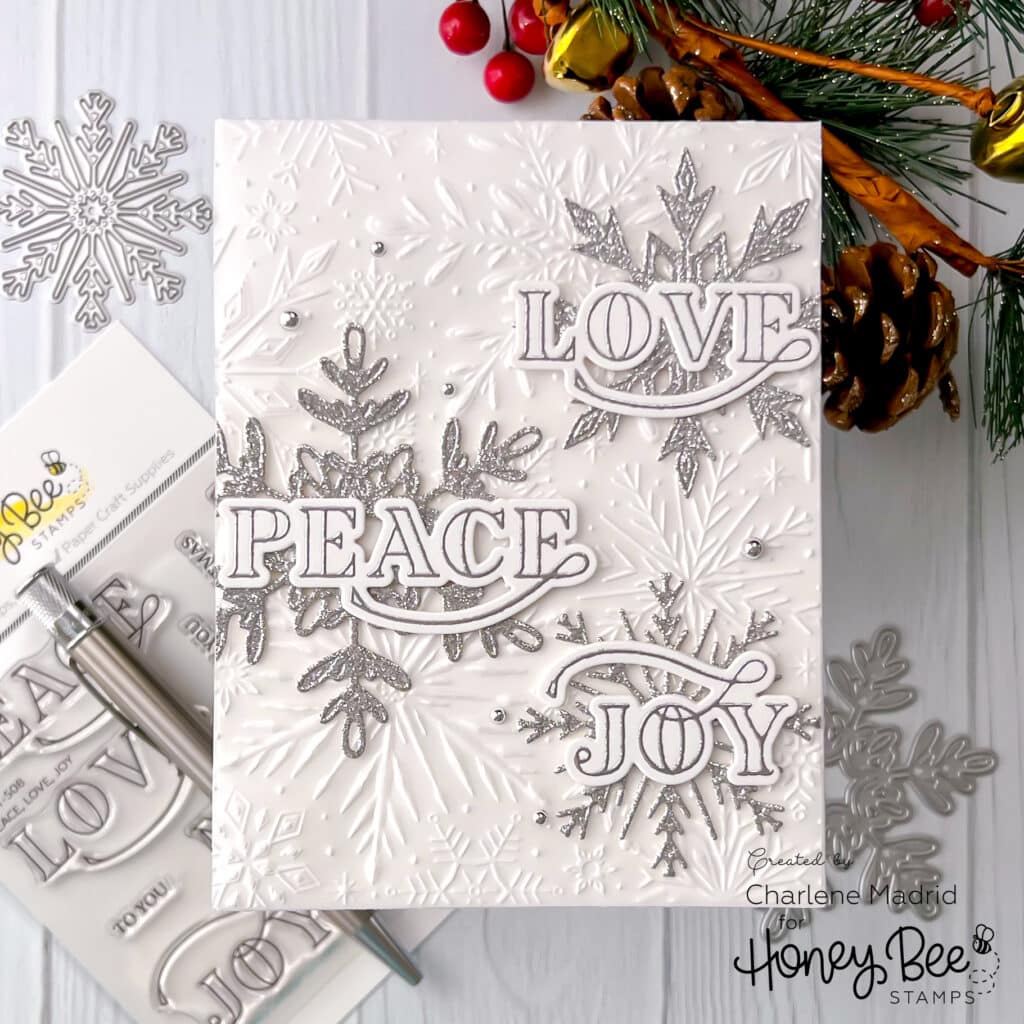 For our second card, it's all about adding an elegant twist with embossed vellum. Using the same Snowflakes 3D Embossing Folder, I turned a sheet of vellum into a frosty masterpiece. By attaching this vellum to a white cardstock panel, we create a frosted window effect. It's like peering outside on a winter's day.
On top of the vellum, three dazzling snowflakes take center stage. These snowflakes, die-cut from silver glitter cardstock using the Lovely Layers: Large Snowflakes, add a brilliant touch of winter magic. To spread some joy, peace, and love, I heat-embossed large word sentiments on white cardstock using the Peace, Love, Joy stamps and die-cut them with the coordinating dies. These sentiments, in a shimmering silver finish, beautifully express the spirit of the season.
To finish the card, I added a sprinkle of silver pearl stickers from the Metallic Mix Pearl Stickers. These tiny embellishments catch the light, adding just the right amount of extra shine.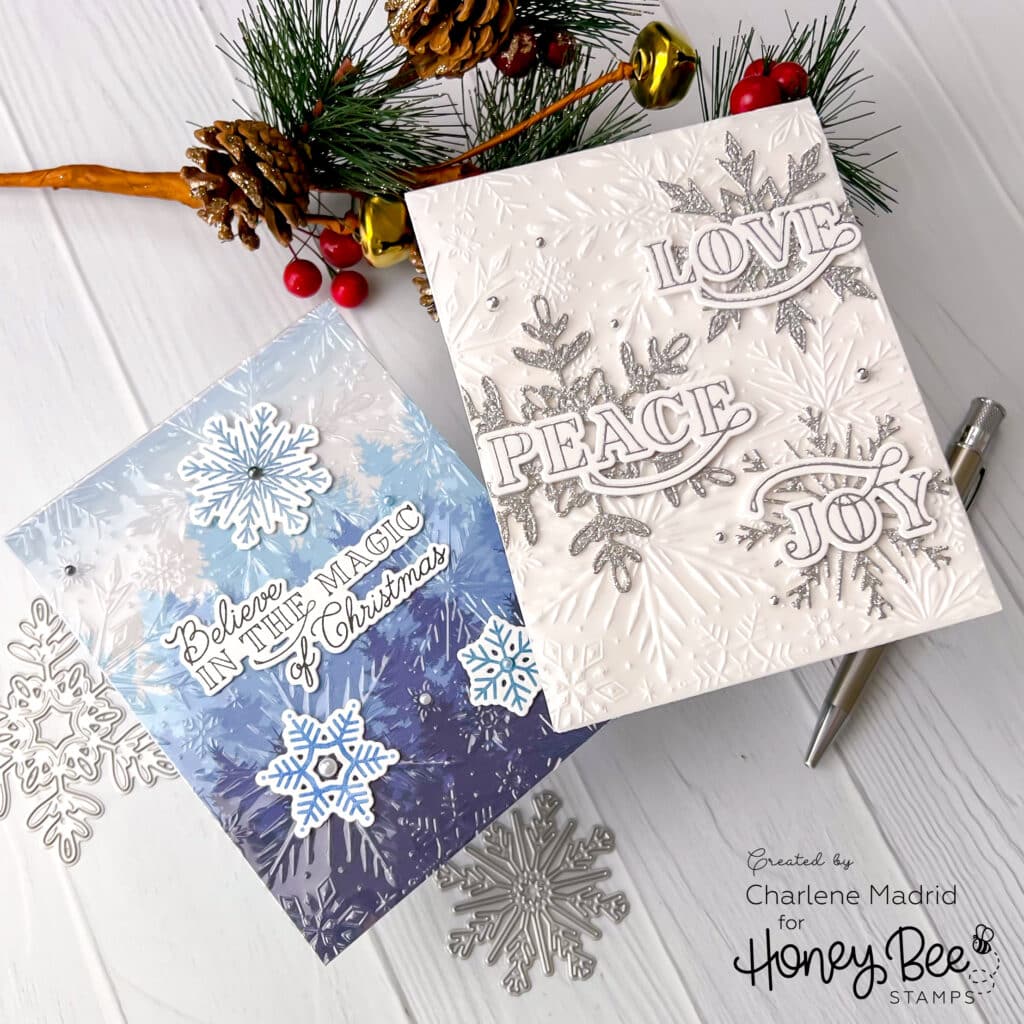 The Honey Bee Stamps Holiday Wishes Release is a treasure trove of creative opportunities. Whether you choose embossed acetate or elegant vellum, there's no limit to the magic you can craft. I hope these cards inspire you to embrace the winter season and share your warm wishes with your loved ones. Happy crafting!
Supplies