New Autumn Wonder from Spellbinders
Crafting fall's beauty with contemporary colors!
Hey there, fellow crafters! Today, I'm excited to share a cardmaking project that's all about embracing the beauty of autumn. This card came to life with the help of Spellbinders' Autumn Wonder Dies, a fantastic set that captures the essence of the fall season. Let's dive into this creative adventure together!
Disclosure
Compensated affiliate links may be used in this post at no cost to you. I received some of the products in this post at no cost. I will ONLY show you products from companies that I believe in and purchase from personally. Thank you for supporting me so that I can continue to bring you lots of fun crafting content!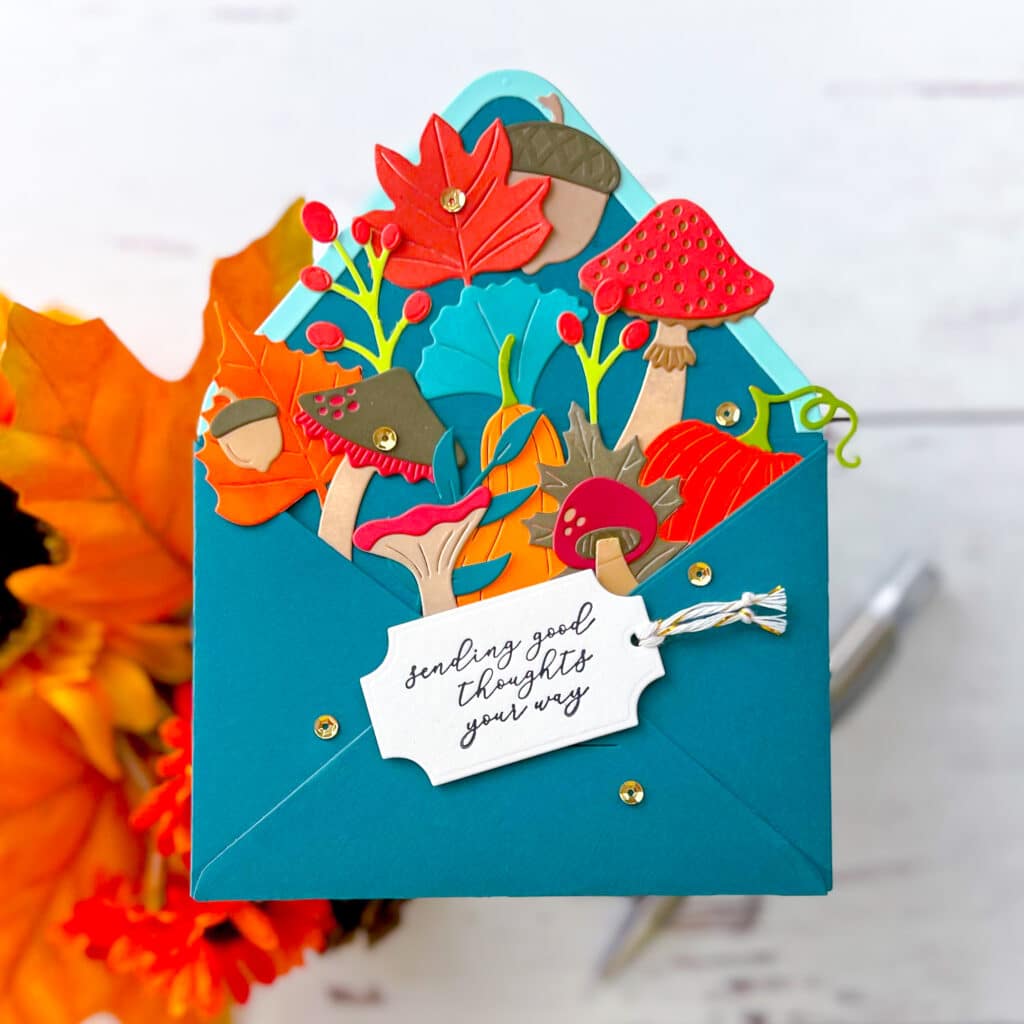 Featured Products
For the full supply list, scroll down to the thumbnails at the end of this post.
Our crafting journey begins with Spellbinders' Autumn Wonder Dies—a delightful collection of dies that beautifully encapsulate the spirit of fall. This set includes various fall-themed elements such as a pumpkin, gourd, leaves, mushrooms, acorns, and greenery.
To breathe life into these die cuts, I started by cutting them from white cardstock. Then came the fun part—inking! I used my trusty Paper Pouncers and a palette of contemporary ink colors, including red, orange, teal, brown, and green, to ink all the pieces. This modern twist on fall colors added a unique and vibrant touch to the elements.
For the card's base, I used the envelope die from the Envelope of Wonder Dies, another fantastic Spellbinders set. I opted for teal cardstock to create an envelope-shaped card base. This provided an elegant backdrop for the burst of autumn wonder that would follow.
A heartfelt sentiment can elevate any card. To create mine, I used the tag die from the Envelope of Wonder Dies to cut out a sentiment from the Sentiments of Wonder Press Plates. Adding a touch of elegance, I used white twine adorned with gold accents to tie it all together.
Now, here's where the magic happens. I carefully arranged all the inked die cuts to create a dynamic and enchanting display of fall elements on the card. To hold everything in place while I worked, I used Press n' Seal. After flipping the arrangement over, applying glue, and gently laying it back on the envelope, I allowed it to dry before removing the Press n' Seal. The result was a captivating burst of autumn wonder!
To add a final flourish of elegance, I adorned the card with gold sequins, which complemented the gold accents on the sentiment and twine. These tiny embellishments added a touch of sparkle to the project.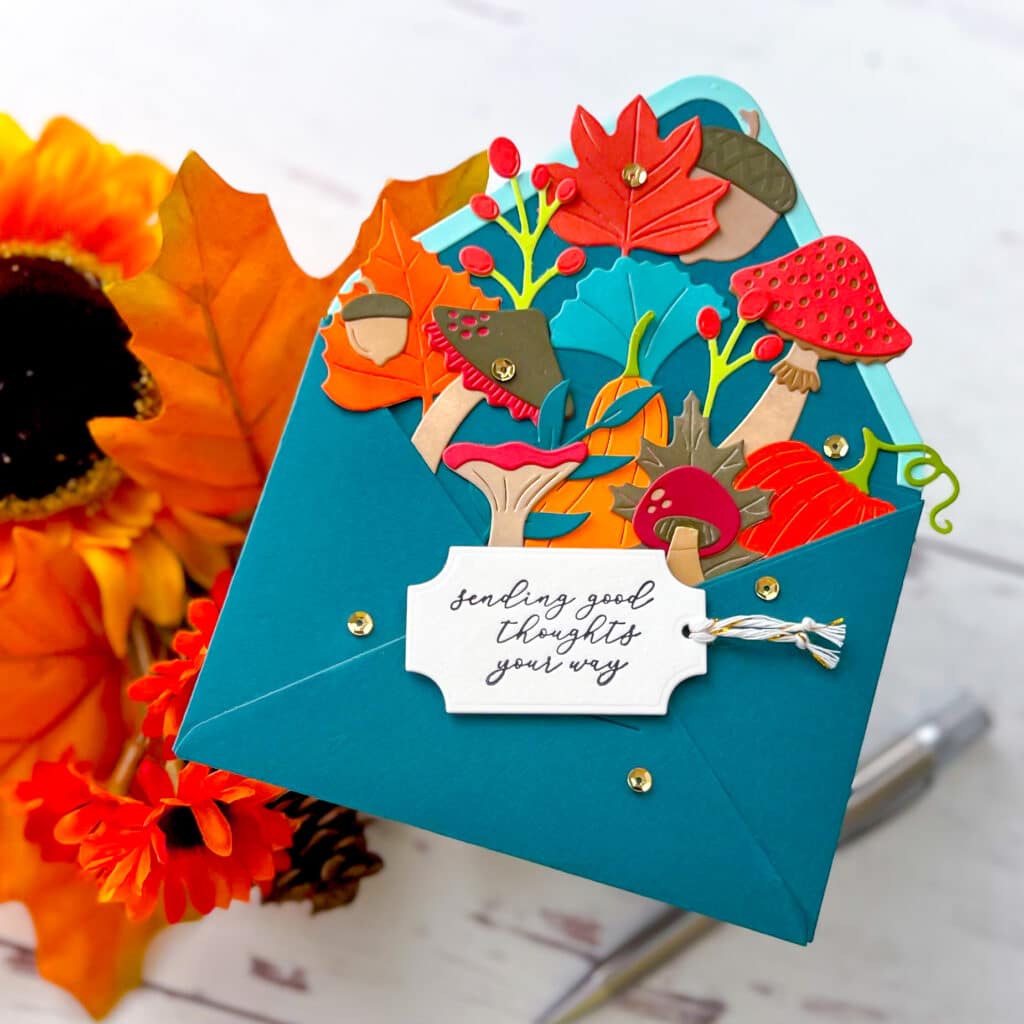 Crafting with Spellbinders' Autumn Wonder Dies was a delightful journey into the heart of fall. From the vibrant inked die cuts to the enchanting burst of elements on the envelope, this card embodies the spirit of creativity and the beauty of the season. Remember that creativity knows no bounds. Embrace the wonder of mixing unexpected elements and colors! Whether you're crafting to share a heartfelt message or simply celebrating the magic of fall, may your creations bring joy to those who receive them.
Supplies
Ink Colors
Catherine Pooler Martini
Catherine Pooler Glitz
Catherine Pooler Orange Twist
Catherine Pooler Tiki Torch
Catherine Pooler Garden Party
Catherine Pooler All that Jazz
Catherine Pooler Flame
Catherine Pooler Tutti Frutti
Catherine Pooler Cranberry Fizz
Catherine Pooler Rockin' Red
Catherine Pooler Uptown
Catherine Pooler Over Coffee
Catherine Pooler Sand Castle
Catherine Pooler S'mores