Dive into the Beauty of Altenew's Pond Flowers Die Set
Learn how to use your inks to create the look of water!
Welcome to my creative space, where the world of cardmaking comes to life! Today, I'm excited to share a stunning technique that will transform your handmade cards into mini masterpieces. Join me as we dive into the art of creating realistic water effects using Altenew's Pond Flowers Die Set. Get ready to be inspired by the beauty of nature as we bring serene ponds and blooming flowers to the forefront of our creations.
For a step-by-step visual guide, be sure to watch my video tutorial. I'll walk you through each stage of the process, offering tips and tricks along the way. You'll see firsthand how to create stunning water effects using Altenew's Pond Flowers Die Set, making it easier for you to recreate the technique and achieve remarkable results. Happy crafting!
Disclosure
Compensated affiliate links may be used in this post at no cost to you. I received some of the products in this post at no cost. I will ONLY show you products from companies that I believe in and purchase from personally. Thank you for supporting me so that I can continue to bring you lots of fun crafting content!
Featured Products
For the full supply list, scroll down to the thumbnails at the end of this post.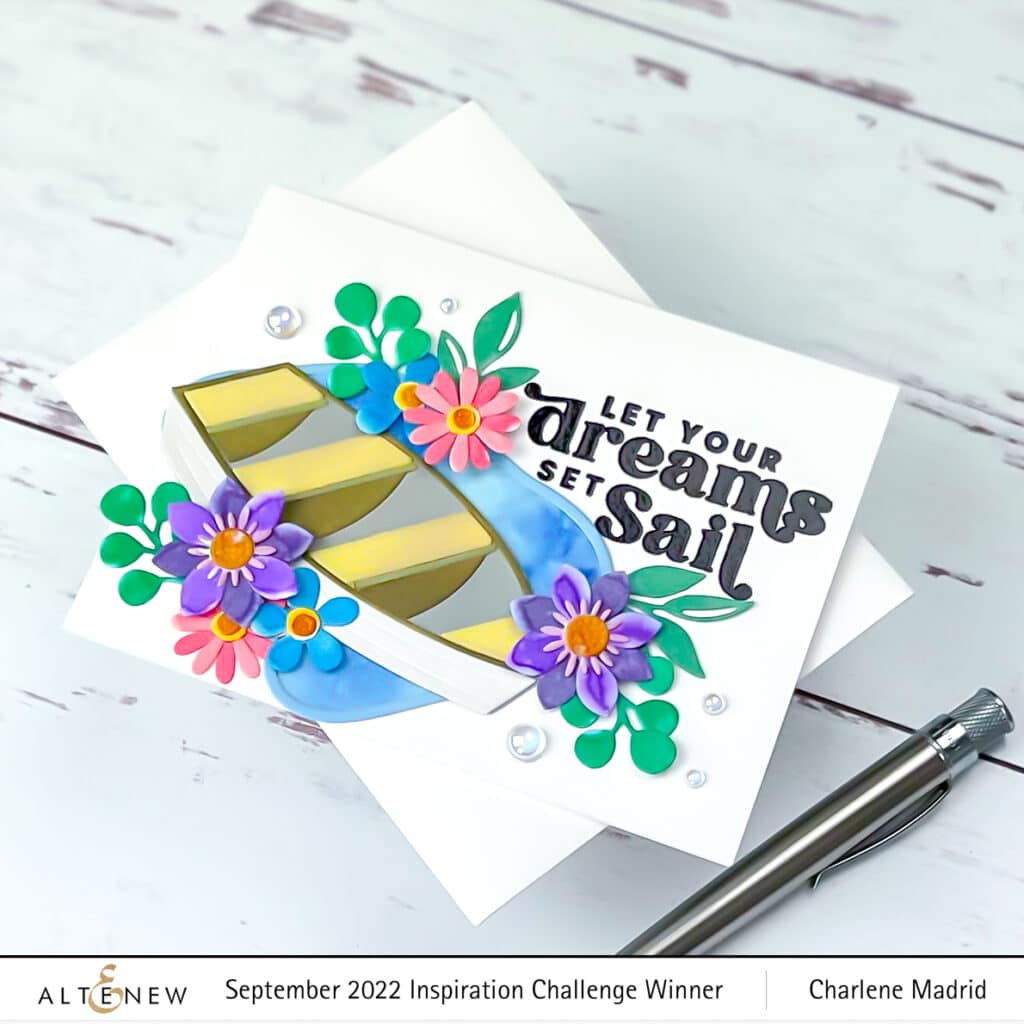 The Technique: Let's delve into the technique that brings your cards to life with realistic water effects. Start by using Altenew's Pond Flowers Die Set to cut out a pond shape and delicate flowers. Once you have your die-cut pieces ready, it's time to work your magic. Ink blend the pond die cut using light and dark shades of blue. Be sure to create splotchy areas of color!
The Power of Water: Now, it's time to introduce the element that adds a touch of magic—water! Spritz the ink-blended piece heavily with water. Watch as the water droplets interact with the ink, creating beautiful organic patterns that resemble the movement of water. Allow the piece to dry naturally, and marvel at the incredible texture and depth that the water droplets bring to your design.
Realistic Water Effects: To take the realism to the next level, we'll create the illusion of water on the pond. Once the piece is dry, heat emboss it with clear embossing powder. The heat will melt the powder, creating a glossy, transparent layer that mimics the smooth surface of water. This technique adds a realistic and captivating touch, making the pond truly come to life.
Tip
You can add multiple layers of clear embossing powder to increase the smoothness of your pond!
Supplies