Altenew Online Workshop: Celebration Stencil Techniques
Learn fun and easy stencil techniques!
I love layering stencils. Using multiple stencils can give a card a little something extra special. But did you know you can use your dies to create stencils? It's true! And as a bonus, you get a two-for-one card! I decided to play around with my cover plate dies while doing my homework for the Altenew Online Workshop Celebration: Stencil Techniques and I am absolutely thrilled with the result.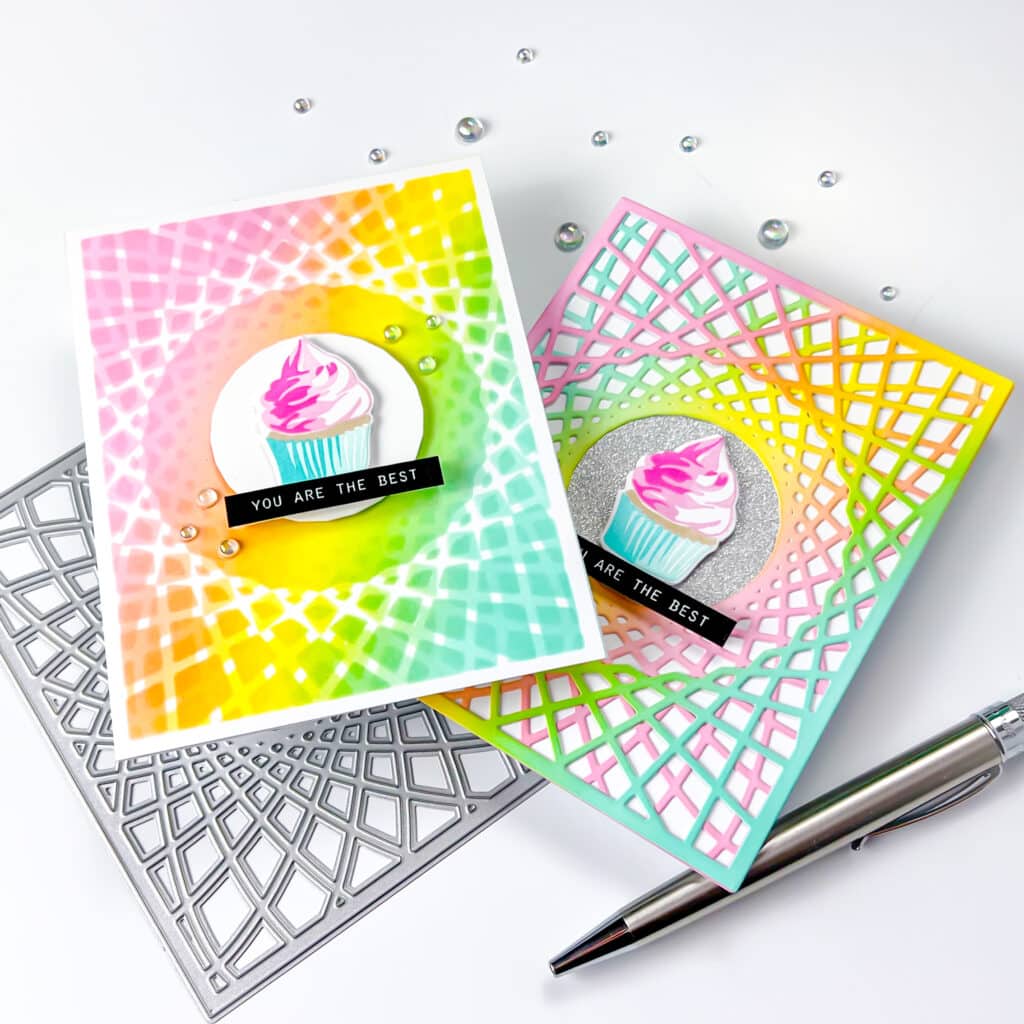 Technique
First, I die cut the Layered Geo Cover Die A. I used repositionable adhesive spray to secure the die cut to an A2 sized card panel. Then I blended pink, yellow, and teal ink on the diagonal to create a modified rainbow. I blended just over a third of the way for each color so that the pink and yellow overlapped to create orange, and the yellow and teal overlapped to create green.
I removed my die cut and repeated the same process with the Layered Geo Cover Die B. I set aside the inner circle to use for later.
Next, I used the Mini Delight: Cupcake layering stamps to create two cute little cupcakes. I used the coordinating die to cut them out.
To create my sentiment, I used the Best Sentiments stamps. I love these stamps because they look like mini labels and are very easy to cut down using your paper trimmer or scissors.
Next, I adhered the ink blended card panel to an A2 card base using liquid adhesive. Then I adhered the inner circle from my Layered Geo Cover Die B die cut in the center of the card with adhesive foam. I also adhered my cupcake and sentiment using adhesive foam.
Lastly, I added iridescent bubble embellishments to add a bit of bling!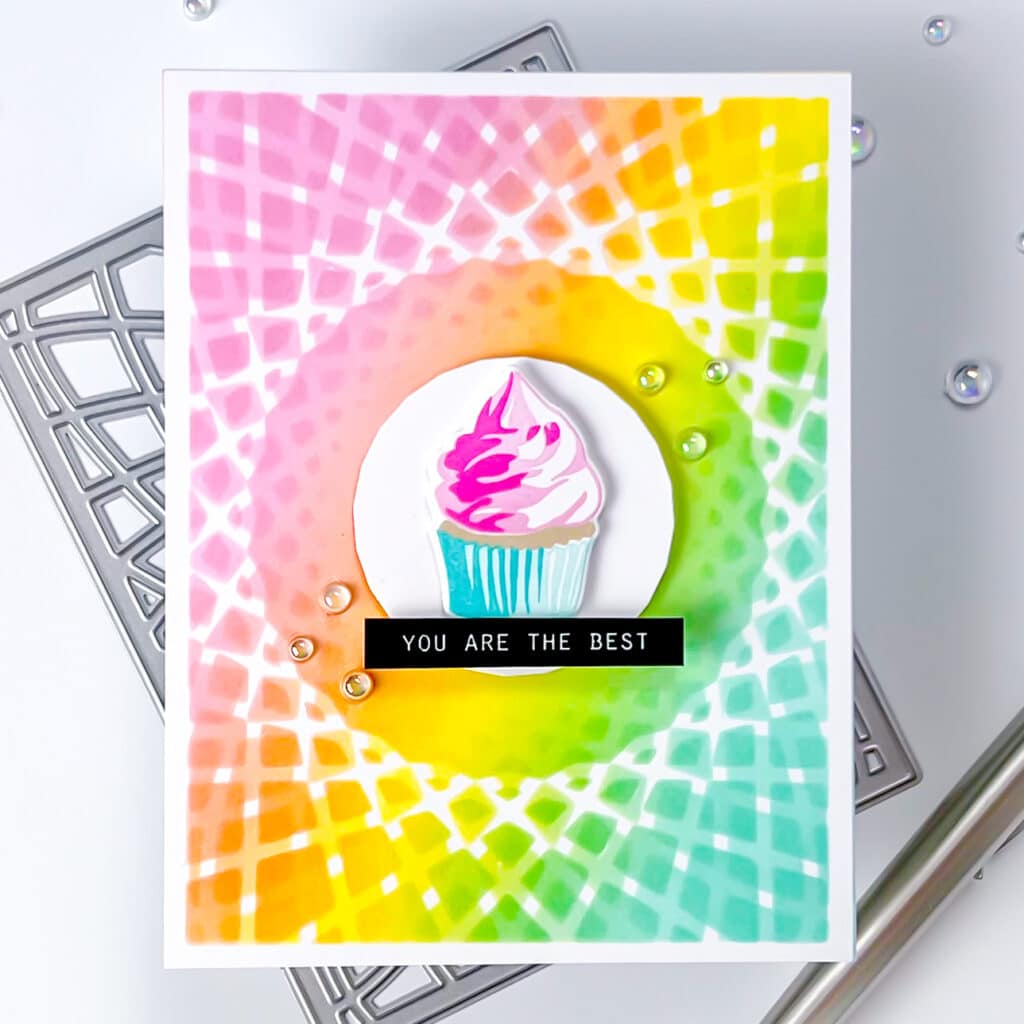 To create my bonus card, I first glued a small piece of silver glitter paper to the back of the Layered Geo Cover Die A die cut. Then I glued both the A and B die cuts to an A2 card base. I flipped the B die cut 180 degrees before gluing it down.
I finished the card by adhering my cupcake and sentiment using adhesive foam. I love dimension!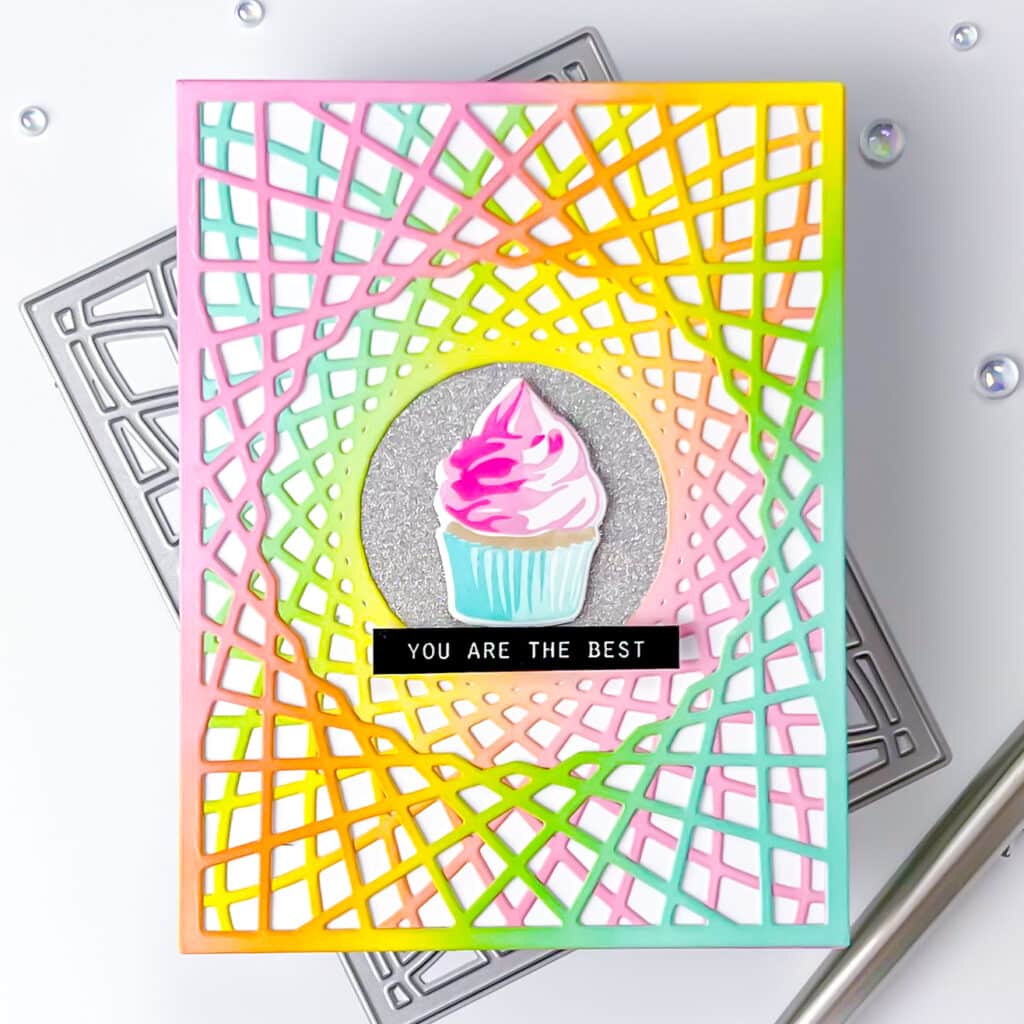 Tip
Use repositionable adhesive spray for finely detailed stencils. The spray keeps all of the little parts where they are supposed to be!
Disclosure
Compensated affiliate links may be used on this page at no cost to you. Thank you for supporting me so that I can continue to bring you lots of fun crafting content!
Supplies